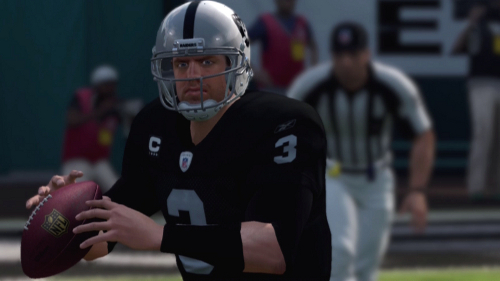 Week seven of the NFL season will be largely remembered for the horrid offensive displays seen around the league – with the exception of teams like the Saints, Cowboys, and Texans (with the former two rolling over winless teams). Rather than being about good defense it appears most cases were due to poor QB play and just sloppy execution.
Several QBs will probably take a hit in the upcoming Madden NFL 12 roster update and other skill position players, like Chris Johnson, are sure to see drops too given extended periods of poor production. Of even more impact could be the injuries sustained as names like Tim Hightower, Santana Moss, Walter Thurmond, Earnest Graham, Aaron Smith, Shawne Merriman, Beanie Wells, Jason Smith, Danieal Manning, Hines Ward, and Darren McFadden could (or will be) out for extended periods of time. Olin Kruetz left the Saints prior to the last game and is presumably now retired while the Vikings have released Bernard Berrian. This update will also correct the Ronnie Brown to the Lions trade that was voided too late in the process last week to remove.
The big winner of the week is sure to be DeMarco Murray who stepped into the starting RB role and proceeded to break the Cowboys single-game rushing record that had been held by Emmitt Smith. Other guys shaping up for a solid boost after a big week include Mike Wallace, Red Bryant, Plaxico Burress, and Matt Forte.
As always leave your thoughts in the comments as to what players or teams are most deserving of ratings up or downgrades in the next Madden 12 roster update!