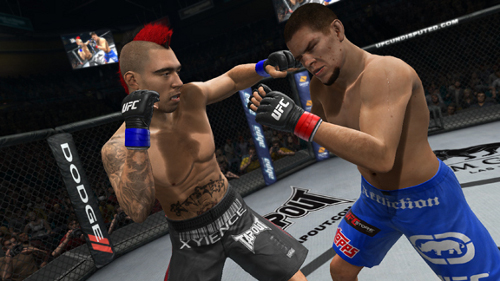 The rosters for UFC Undisputed 3 conclude with the welterweights – though there remains the list of names to come to make for the 'Pride' mode in the game. If any of the rosters for the various weight classes previously revealed were missed: heavyweight, light heavyweight, middleweight, lightweight, featherweight, and bantamweight.
As with the majority of the divisions there are some real notable names omitted from the roster here – with Anthony "Rumble" Johnson, Jake Ellenberger, Rick "The Horror" Story, and Rory MacDonald missing. The division is headlined by current champion Georges St-Pierre and includes Josh Koscheck and Jake Shields.
Continue on for the list of 16 welterweights – 17 if counting the retailer exclusive (down from 22 in UFC 2010) and leave your thoughts in the comments!
Carlos Condit
Chris Lytle
Dan Hardy
Diego Sanchez
Dong Hyun Kim
Georges St. Pierre
Jake Shields
Jon Fitch
Josh Koscheck
Martin Kampmann
Matt Serra
Matt Hughes
Mike Swick
Nate Diaz
Nick Diaz (Gamestop Exclusive)
Paulo Thiago
Thiago Alves