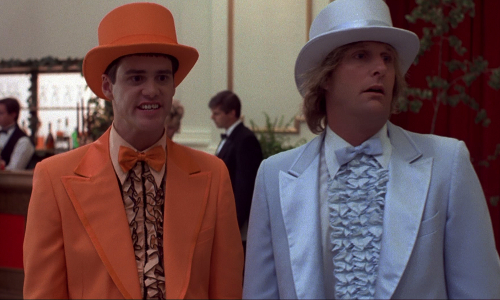 The sequel to the 1994's Dumb and Dumber that everyone wanted, and instead in 2003 were given an absolutely terrible prequel, is finally going to materialize. The Farrelly Brothers will be bringing back Jim Carrey and Jeff Daniels to reprise their roles nearly 20 years after release of the original. Now that filming on the Farrelly's The Three Stooges has been completed they are able to start to work towards coming projects – with their next one expected to be the sequel to the fan favorite comedy which grossed nearly $250 million worldwide on a budget of $17 million and went on to rake in the bucks with its DVD sales.
The film will be written by John Morris and Sean Anders – who amongst a number of scripts have most recently done Mr. Popper's Penguins and Hot Tub Time Machine – and directed by Peter and Bobby Farrelly.
It's hard to believe it has almost been 20 years since Dumb and Dumber released and it holds up quite well to this day. My enjoyment (and for many others it seems) of Farrelly movies has dropped significantly over time however. Following There's Something About Mary in 1998 things began going downhill – and none of their films have opened with over $20 million in the first weekend since 2001's Shallow Hal. A sequel though to arguably their best one was sure to generate a ton of interest – and getting the stars on board was the most critical step in getting the project off the ground and generating that immediate credibility.