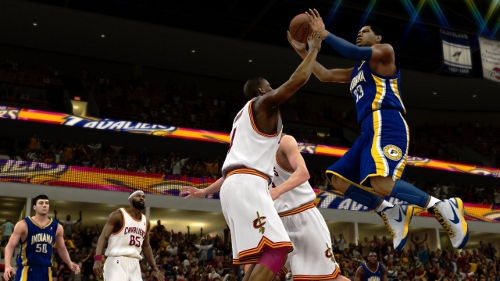 It's been covered well here since the release of NBA 2K12 – the online troubles that have been at the root of the ire consumers have directed towards 2K Sports regarding the title. General performance issues with connections and lag affect nearly everything online related but that has been compounded by the removal of popular modes and options (even lobbies) and a terribly disappointing Online Association offering.
Today Kotaku posted an article on the subject that includes discussion with director of development at Visual Concepts (2K Sports dev house) going over the state of online play for NBA 2K12. It includes references to the specific problems being experienced and the first time the company has even said the word "Crew" in months – though does not make mention of why the website which houses expected features still has not launched. 
"Going into NBA 2K12 the code was still the same code from the modem days of the Dreamcast," Thomas said. Added-on and modified to account for broadband communications and other modern developments, it still was a relic from the old NFL 2K1 days, the first sports console title with online multiplayer capability. Though fondly recalled for dazzling celebrities at the 2K booth at E3 10 years ago, it had to go. This was the year to do it, 2K Sports decided.

The decision to change online codebases affected everything about the game's online offerings. As this would be a first run, Thomas directed the team to remove complex features that, although manageable in the old creaky architecture, couldn't be integrated with the new code in time for the game's shipping date—which, of course, is set by the NBA…..Though Thomas cannot promise anything, he also sincerely did not rule out My Crew's return in future editions, attributing its absence in NBA 2K12 solely to the new codebase.
The explanation of having completely re-written the code is questionable however as the company made that very same claim heading into 2K11 – and now as it turns out that apparently wasn't really the truth given that code from the Dreamcast days remained (the same dramatic thing they stated last year)*. At a minimum now though there is some explanation of why 'Crew' was taken out and that it could possibly return in the future.
*Edit: Re-checked and found references regarding Dreamcast "tech and servers" rather than "code" so, though maybe parsing words, it is possible they undertook a different project for 2K12.
The whole article is a fascinating read so make sure to check it out. It was one thing to have severe issues with online play – but another to not publicly address them and be transparent with consumers through the process. Even if it took nearly a month 2K now gets the credit for at least doing that much and working towards solutions.