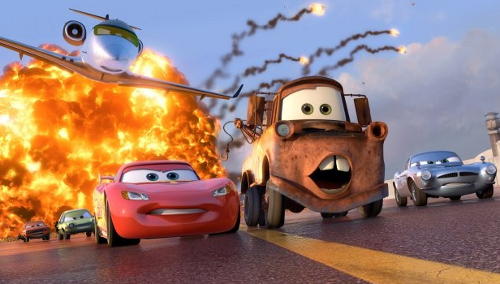 Though it was the least successful of any Pixar film Cars 2 went on to make nearly $200 million and leads the way in this week of releases. Crazy, Stupid, Love did well considering its budget – getting some great reviews along the way – and with Water for Elephants makes for two solid options for the more mature crowd.

•Cars 2 (Buy at Amazon: DVD or Blu-ray/DVD Combo)
From the creators of CARS and TOY STORY 3 comes a new, laugh-out-loud, heartwarming adventure geared for the entire family. Star race car Lightning McQueen (Owen Wilson) and the incomparable tow truck Mater (Larry the Cable Guy) take their friendship on the road from Radiator Springs to exciting new places when they head overseas to compete in the first-ever World Grand Prix!
•Crazy, Stupid, Love (Buy at Amazon: DVD or Blu-ray/DVD Combo)
Steve Carell and Ryan Gosling lead an all-star cast in Crazy, Stupid, Love. Fortysomething straight-laced Cal Weaver (Carell) is living the dream—good job, nice house, great kids and marriage to his high school sweetheart, Emily (Julianne Moore). So when Cal learns that his wife has cheated on him and wants a divorce, his "perfect" life quickly unravels. Cal, who hasn't dated in decades, stands out as the epitome of un-smooth so handsome player Jacob Palmer (Gosling) takes him on as wingman and protege, opening Cal's eyes to the many options before him: flirty women, manly drinks and a sense of style. Despite Cal's makeover and his many new conquests, the one thing that can't be made over is his heart, which seems to keep leading Cal back to where he began.
•Water for Elephants (Buy at Amazon: DVD or Blu-ray)
ACADEMY AWARD Winners Reese Witherspoon and Christoph Waltz join Robert Pattinson (The Twilight Saga) for this epic tale of forbidden love based on Sara Gruen's acclaimed best seller. Against all odds, a veterinary student (Pattinson) and a beautiful circus performer from a bygone era (Witherspoon), meet and fall in love through their shared compassion for a special elephant. But their secret romance incurs the wrath of her dangerously volatile husband (Waltz).
•Trespass (Buy at Amazon: DVD or Blu-ray/DVD Combo)
What happens when a man with everything a beautiful wife (Nicole Kidman), a teenage daughter (Liana Liberato) and a wealthy estate is confronted with the reality of losing it all? That is what Kyle Miller (Nicolas Cage) must come to terms with as he and his family become the victims of a vicious home invasion. Led by Elias (Ben Mendelsohn) and Jonah (Cam Gigandet), a gang of cold-blooded thugs holds Kyle and his loved ones hostage as they carry out their plans to take everything that Kyle holds dear, including his life.
•Californication – Season 4 (Buy DVD at Amazon)
The Showtime Original Series Californication ended season three with bad-boy novelist Hank Moody being hauled off to jail for assaulting the boyfriend of his troublemaking, underage, former fling Mia. His home life with Karen and Becca is in ruins, but the scandal surrounding the publication of his latest book has turned him into a hot Hollywood commodity – in more ways than one. Can Hank navigate the mess he's made of his life and come out on top?