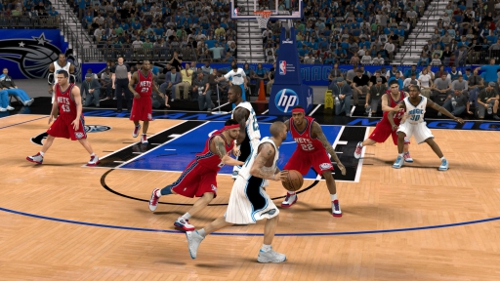 The NBA season would have tipped-off this evening if not for the league lockout. The date also is significant in that it marks a full four weeks having passed since the release of NBA 2K12 and still the official website, expected one day one and touted as housing several features for the game, has yet to roll out. 2K Sports has not commented on the subject beyond stating they do not know when it will be ready.
Features such as being able to track My Player progress, view online leaderboards, host video and screenshot uploads, and the ability to manage Online Associations (view stats, make trades, adjust rosters, conduct drafts) were anticipated to be available immediately upon release. Previews and reviews for the game made mention of them and they have been flaunted in a menu/loading screens within 2K12.
The very first task in NBA 2K12 was the required creation of the "My2K account" – the process of which was actually a problem of its own right around release. Without the website tie-in the account has been essentially worthless. There are even the Twitter and Facebook tie-ins that continually spam out links to the non-existent website and that is sad in its own right.
2K Sports made strides by finally coming clean in regards to online play late last week. The status of the website, and why a month has passed with it remaining on the shelf, should be among the next topics of discussion.