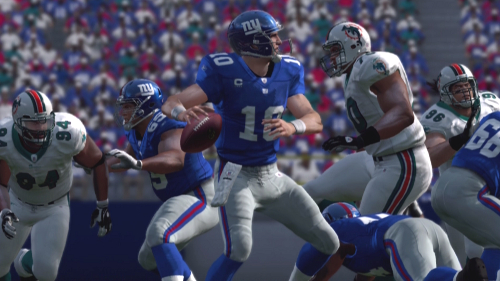 There has been minimal movement from roster updates in terms of 'traits' for Madden NFL 12 so far. Most notable however have been Calvin Johnson gaining "Clutch" following week four and Eli Manning losing his after just the first game. Manning had been described as being on the edge in the first place, barely qualifying to be amongst the initial group of 36 players, and the poor outing in a loss to the Redskins slid him out.
Since then he's had some ups and downs but four 4th quarter comebacks has elevated him back into the group. The roster update that arrived today awarded Manning with the "Clutch" trait that he had gone without since early this season which provides a ratings boost in late game or high pressure situations. 4th quarter wins over the Eagles, Cardinals, Bills, and Dolphins helped to earn the 'trait' back – but also in cutting down his turnovers to just 8 (after leading the league with 30 last year) it became easier to justify an elite designation such as 'Clutch'.
Philip Rivers may be on notice now after two straight late game fails and with his leading the league in turnovers. He currently holds the 'Clutch' trait. Ironically the two QBs will always be linked after being traded for one another on draft day in 2004.