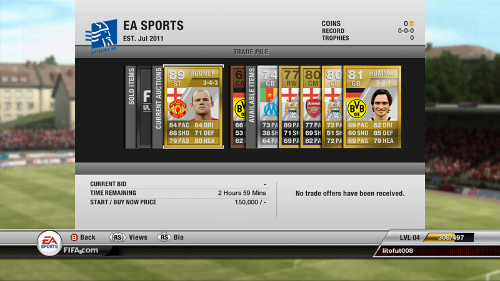 A few weeks back on Google Plus I wrote about how thieves have been targeting Xbox accounts in order to profit from selling FIFA Ultimate Team card packs (along with spending the MS points on the account or charging the card attached for more). Instances of that haven't subsided – and it's even happened to members of the community and individuals I'm familiar with through social media channels.
A lot has been made over the ties to the FIFA series as there is no doubt that it goes beyond a coincidence that FIFA 12 or FIFA 11 are showing up in the "recently played" list of those who's accounts have been compromised with points being spent to fuel FUT. The reason for this is primarily because the packs/coins can be turned around on Ebay for pure profit.
So far there has yet to be any evidence pointing to how the accounts are actually being obtained – with both EA Sports and Microsoft denying anything on their side is the culprit. They point instead to possibilities like phishing or even social engineering. The fact that some have lost control of their Xbox accounts while never even having created one with EA degrades the theory of personal information being obtained there and then matched up in accessing the Xbox account. Still it's recommended to never use the same username/password for multiple services just to be on the safe side. The situation will be monitored for any new developments going forward.