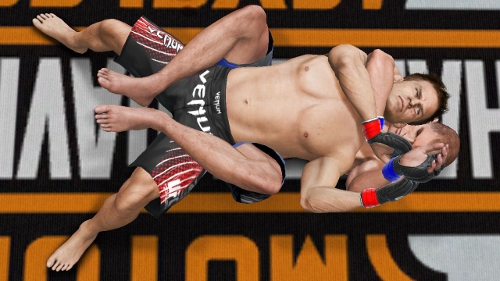 During the UFC 137 broadcast last weekend THQ took the opportunity to announce that UFC Undisputed 3 will be releasing on February 14th – that represents a push back from it's originally advertised early January release. In doing so the game slides into a slot where it will face more competition while increasing the scrutiny over its base roster and planned DLC. 
THQ cited market competition as a major factor in why UFC 2010 was such a sales disappointment (though there certainly were many other reasons) and that led to the franchise being moved off a yearly release schedule. They aren't doing themselves any favors here though. SSX recently announced it would be out on the very same day. There are also high-profile titles in other genres falling there such as Twisted Metal – and more bracketing it in the weeks surrounding including Syndicate and The Darkness II.
Beyond that though is the number of sports games that will arrive within the February-March time frame. In addition to UFC 3 and SSX there are the two MLB titles, Tiger Woods 13, Grand Slam Tennis 2, and FIFA Street. In the past we've seen comparable situations tend to result in at least one, if not more, of the titles struggling mightily at retail. The assumption can't be made that the hardcore crowd will be able to purchase every game they want at any given time throughout the year. It's only in November that companies seem to put that concern aside in order to get in on holiday sales – but even then it's just the AAA titles that succeed wildly while secondary ones usually fall by the wayside.
The big winner in this is EA Sports' NFL Blitz as that becomes the only sports title to fall within an over four month time period. Going from NBA 2K12 in early October to UFC 3/SSX in mid-February means Blitz will be able to take advantage of that distinct void. Its reasonable $15 price as a direct-download title will make it even more appealing under the circumstances.
UFC 3's release date shift also leads to some credibility issues for THQ in regards to the fighter roster. As was detailed throughout the reveal process there are several prominent names absent from almost every weight class – and there are four guys that can only be had by purchasing at a specific retailer. The reasoning THQ initially gave, that these fighters didn't make it when the cut when the date to lock them in was reached, holds a little less weight now that there is an additional 1+ months for production and 3+ to go until its release.
While early January may not mark the most desirable time to release a high-profile game it would have allowed UFC Undisputed 3 to have some breathing room – while giving consumers something to spend their gift cards on. With the release shift UFC 3 will still likely perform well despite the competition but in doing so THQ may have hampered the potential for it to completely break out as a big hit and regain the momentum lost with the last iteration in the series.