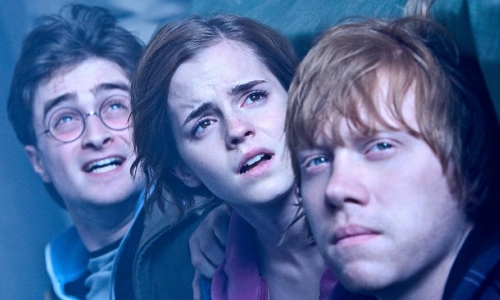 This week of DVD/Blu-ray releases is headlined by the final entry in the Harry Potter franchise with Deathly Hallows: Part 2. The film earned over $1.3 billion worldwide and delivered a fantastic critical response with 96% on Rotten Tomatoes. With that one swallowing up all the attention other studios for the most part avoided releasing anything significant this week. The Change-Up is notable but mostly for having bombed in theaters.
•Harry Potter and the Deathly Hallows: Part 2 
(Buy at Amazon: DVD or Blu-ray/DVD Combo)
In the epic finale, the battle between the good and evil forces of the wizarding world escalates into an all-out war. The stakes have never been higher and no one is safe. But it is Harry who may be called upon to make the ultimate sacrifice as he draws closer to the climactic showdown with Lord Voldemort. It all ends here.
•The Change-Up (Buy at Amazon: DVD or Blu-ray/DVD Combo)
Ryan Reynolds and Jason Bateman star in the outrageous comedy from the director of Wedding Crashers and the writers of The Hangover. One drunken night, two friends admit that they wish they had the other's life. Mitch (Reynolds) thinks Dave has it all: a beautiful, loving family and a high-paying job at a prestigious law firm. But Dave (Bateman) thinks Mitch's stress-free life without obligation or consequence is the real dream come true. The next morning they wake up, hungover, in each other's bodies, and proceed to freak out! With time not on their side, Mitch and Dave comically struggle to avoid completely destroying each other's lives before they can find a way to get their old ones back.
•Atlas Shrugged Part 1 (Buy at Amazon: DVD or Blu-ray)
Ayn Rand's timeless novel of courage and self-sacrifice comes to life for a new millennium. The year is 2016, and America is on the verge of economic disaster. The greatest citizens are being targeted, and dark forces are working to bring about America's final days. Our only hope for salvation lies with Dagny Taggart and Henry Rearden, rugged individualists whose bold ideas may have the power to spark a revolution and reclaim to the American Dream.
•Mortal Kombat: Legacy (Buy Blu-ray at Amazon)
(Web Series) Mortal Kombat: Legacy takes place before the events of the first tournament and tells the background stories of several characters from the franchise, culminating in their reasons for participating in the upcoming tenth Mortal Kombat tournament, on which the first video game was based. The series is a non-linear anthology, with each episode independent of the rest, and devoted to the story of a specific character or characters.
•13 (Buy at Amazon: DVD or Blu-ray)
A naïve young man assumes a dead man's identity in order to join a underworld game of Russian Roulette. The stakes are high, but the payout is more than he can resist. His only collateral is his life and however long his luck can hold. Are his odds any better than any other player in this most deadly game?