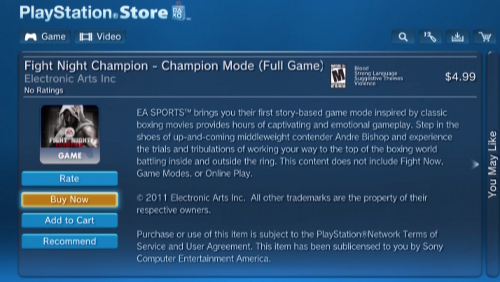 In an interesting development that suggests EA Sports may experiment with a similar pricing model in the future, Fight Night Champion is available now as a download on PSN – but with the added option of certain portions of the game being made available for purchase individually. Over on the Xbox 360 currently only the full game can be bought ($30 on both consoles). 
The M-rated 'Champion' story mode can be had for just $4.99. Many found the mode to be quite enjoyable despite being short – and beyond that FNC wasn't all that compelling. That makes for a great option to consider with the ability to play through the story but not have to pay full price for the entire game and modes that may not ultimately be desired.
The new pricing scheme is being advertised as an opportunity to "customize your experience". 'Fight Now' for $5, 'Legacy' (career mode) for $10, and 'Online Play' for $10 are coming options available for purchase on their own but as of yet only the 'Champion' mode and full game download are up.
I wouldn't anticipate this to be a strategy for new releases but it makes a lot of sense months down the line in enticing those who passed on purchasing the full product or others who may be apt to make an impulse buy. FNC is over eight months old and at $30 isn't going to demand a lot of attention. However by making portions of the game available for a fraction of the price it becomes much more appealing – and for the company the hope would then be that consumers who enjoy one mode may go on to purchase others or the complete package.