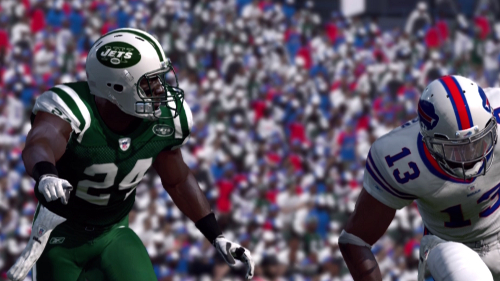 Having now reached just about the mid-season point the picture of just who might be in the running for the cover of Madden NFL 13 has started to come into focus. EA Sports is likely to involve fans in another voting initiative – for the purposes of analysis it will be assumed that another tournament of 32 (one player from each team) will take place. This is a look at the 16 AFC teams while the NFC went up earlier this week.
In determining the player representative from each team a number of factors were considered including their performance this season and throughout their career, their marketability and exposure, and who best presents the image of what their team is all about. Players that were in the Madden NFL 12 cover tournament were eliminated from consideration as were those who are slated to become free agents.
*Current Madden NFL 12 overall rating in parenthesis for selected players
Broncos: Champ Bailey (98)
One of the top corners for years Bailey has been suggested in the past as a potential cover guy but corners rarely get that type of consideration. The Broncos don't have much else though to contend for the pick. Rookie Von Miller (84) has been good but without the exposure of some other rookies while Brian Dawkins could potentially retire.
Chargers: Antonio Gates (97)
Surprisingly the Chargers don't have many great options to be their representative. Gates gets the nod for his career work and past marketing relationship with EA Sports despite an injury plagued season. Eric Weddle could be in the running as well.
Chiefs: Tamba Hali (94)
This is a team with a lot of intriguing talent – Eric Berry coming off a season long injury pretty much eliminates him however. Brandon Flowers and Derrick Johnson have performed well enough to consider. Hali though has really stepped up, particularly in nationally televised games, and is the highest rated player on the team.
Raiders: Richard Seymour (96)
Darren McFadden was in the tournament last year so he's taken out of the running here. Seymour has been a premiere player for the Raiders since acquiring him from the Patriots – that 96 rating shows his importance to the team. A runner-up here could be a kicker, Sebastian Janikowski, who tied the record for longest FG this year and has been great over his 12 year career with the team. Denarius Moore's two big games wouldn't be enough at this point.
Bengals: AJ Green (86)
This is a team that has been led by two rookies on offense to a 6-2 record, so one of them would likely get the nod. A.J. Green has been the flashier of the two.
Browns: Joe Thomas (98)
There is no way EA will let another player from the Browns get the cover. The expectation here would be for an unappealing candidate to be presented – probably from the offensive line or kicker. They'll avoid Josh Cribbs and probably Joe Haden for that reason. Giving the nod here to Joe Thomas over Phil Dawson.
Ravens: Haloti Ngata (98)
The choice would almost certainly come from the defense – the problem is there are four terrific options. Ngata is the highest rated along with Ed Reed but both Terrell Suggs and Ray Lewis are right behind them. A slight edge here going to Ngata who recently signed a five year contract as he would be one of the few defensive tackles in the league that could make the tournament.
Steelers: Mike Wallace (91)
There could be a question of whether the NFL would be alright with James Harrison representing their product. For that reason, along with Ben Roethlisberger being far from an ideal spokesperson, Mike Wallace is the pick here. As arguably the fastest player in the league he has 47 receptions and 6 TDs on the season with an 18.5 yards per catch average.
Colts: Pat Angerer (82)
A team that could go winless isn't going to have an overly appealing candidate. Robert Mathis would be the highest rated on the team, but really he would be hard to justify with Dwight Freeney on the other side. Jeff Saturday (set to be free agent), Adam Vinatieri, and Pat Angerer got consideration here. Second year player Angerer, who leads the NFL in tackles, is the choice.
Jaguars: Rashean Mathis (89)
The Jaguars one offensive threat, Maurice Jones-Drew, got his shot last year and that leaves not a whole lot to pick from. Marcedes Lewis has disappointed this season (only 15 catches and no TDs), Paul Posluszny has been solid, while kicker Josh Scobee has been excellent. For now Rashean Mathis and his nine years with the team have the advantage.
Texans: Arian Foster (93)
Though he has lost a few games due to injury Foster burst onto the scene last year and thanks to fantasy football became a household name. He makes for a good story as an undrafted free agent and has a strong presence in social media that could help his campaign. Four of the seven games he has played in he has rushed for 112 yards or more with two games of 116 yards receiving or more.
Titans: Cortland Finnegan (93)
If not for a season ending injury the nomination probably would have gone to Kenny Britt. Instead the top option could be the physical corner Finnegan.
Bills: Fred Jackson (93)
The obvious choice here is Jackson, who has taken his initial Madden NFL 12 rating from 80 to 93 in the first half of the season. He has 803 yards rushing with 6 TDs to go along with 30 receptions for 391 yards.
Dolphins: Cameron Wake (92)
Miami is one of the teams last year that got stuck with an offensive lineman as their rep. This time around options could include Wake, Karlos Dansby, or even Reggie Bush. Coming off a season with 14 sacks Wake has 5.5 so far this year.
Jets: Darrelle Revis (99)
It's hard to imagine anyone other than Revis getting the nomination for the Jets. He has the 99 overall rating, is the definition of a "shutdown" corner, and has 4 picks on the season.
Patriots: Wes Welker (94)
Unless EA Sports wanted to break the bank and go for Tom Brady, which potentially would only happen if he was the ultimate pick and not just entered in a tournament, the Patriots could offer Welker or maybe one of their talented tight ends. Welker is very deserving of the honor though – in eight games he has 66 catches for 960 yards and 6 TDs. That puts him on pace to break Jerry Rice's record for yards receiving in a season.