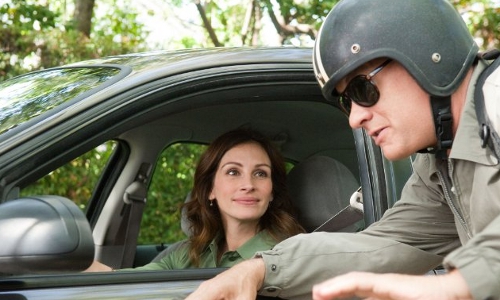 This is one of the flattest weeks of DVD/Blu-ray releases in quite some time – maybe not coincidentally as it follows on the heels of the final chapter of Harry Potter having arriving in stores. The only major theatrical release was Larry Crowne which turned out to be a big disappointment. A number of re-releases though are in the mix as well. 
•DreamWorks Dragons: Gift of the Night Fury / Book of Dragons Double Pack
(Buy at Amazon: DVD or Blu-ray/DVD Combo)
Gift of Night Fury New! The Dragons are back in the exciting next chapter to the Academy Award-nominated film, DreamWorks Animation's How to Train Your Dragon. The epic story of Hiccup and Toothless continues as they take flight in a thrilling, all-new adventure to discover an island of never-before-seen dragons. Explosive action and fire-breathing excitement collide in this exhilarating story. Book of Dragons New! So you want to be a dragon trainer do you? Prepare yourself for adventure, excitement and training as Hiccup, Astrid, Toothless and Gobber tell the legend behind the Book of Dragons and reveal insider training secrets about new, never-before-seen dragons. Online Video Game New! Once you've learned the training secrets in Book of Dragons, gain exclusive access to test your skills in the all-new Dragons Online Video Game where you'll battle and train new dragons, win badges and become the ultimate dragon trainer.
•Larry Crowne (Buy at Amazon: DVD or Blu-ray)
Academy Award winners Tom Hanks and Julia Roberts come together for a romantic and optimistic comedy about how it's never too late to reinvent yourself. When he suddenly finds himself without his long-standing blue-collar job, Larry Crowne (Hanks) enrolls at his local college to start over. There, he becomes part of an eclectic community of students and develops a crush on his teacher (Roberts). Now this simple guy will discover that when you think everything worth having has passed you by, you just might find your reason to live.
•Beginners (Buy at Amazon: DVD or Blu-ray)
Golden Globe nominee Ewan McGregor, Academy Award nominee Christopher Plummer, and Mélanie Laurent star in Beginners, an uplifting comedy about how funny and transformative life can be. When graphic designer Oliver (McGregor) meets free-spirited Anna (Laurent) shortly after his father (Plummer) has passed away, Oliver realizes just how much of a beginner he is when it comes to long-lasting romantic love. Memories of his father, who, following the death of his wife of 45 years, came out of the closet at age 75 to live a full, energized, and wonderfully tumultuous gay life, encourage Oliver to open himself up to the potential of a true relationship.
•Main Street (Buy at Amazon: DVD or Blu-ray)
MAIN STREET is a contemporary drama about several residents of a small Southern city whose lives are changed by the arrival of a stranger with a controversial plan to save their decaying hometown. In the midst of challenging times, each of the colorful citizens of this close-knit North Carolina community from its mayor to a local police officer to a once-wealthy tobacco heiress will search for ways to reinvent themselves, their relationships and the very heart of their neighborhood.
•Pirates of the Caribbean: On Stranger Tides (Buy DVD at Amazon)
*Previously released only as Blu-ray/DVD combo* Johnny Depp returns as Captain Jack Sparrow in PIRATES OF THE CARIBBEAN: ON STRANGER TIDES. A tale of truth, betrayal, youth, demise — and mermaids! When Jack crosses paths with a woman from his past (Penelope Cruz), he's not sure if it's love, or if she's a ruthless con artist using him to find the fabled Fountain of Youth. Forced aboard the ship of the most feared pirate ever, Jack doesn't know whom to fear more — Blackbeard (Ian McShane) or the woman from his past.
•Evil Dead 2 (Buy Blu-ray at Amazon)
Ayn Rand's timeless novel of courage and self-sacrifice comes to life for a new millennium. The year is 2016, and America is on the verge of economic disaster. The greatest citizens are being targeted, and dark forces are working to bring about America's final days. Our only hope for salvation lies with Dagny Taggart and Henry Rearden, rugged individualists whose bold ideas may have the power to spark a revolution and reclaim to the American Dream.
•The Lion King (Buy DVD at Amazon)
Embark on an extraordinary coming-of-age adventure as Simba, a lion cub who cannot wait to be king, searches for his destiny in the great "Circle of Life." You will be thrilled by the breathtaking animation, unforgettable Academy Award–winning music (1994: Best Original Score; Best Song, "Can You Feel The Love Tonight") and timeless story.
•West Side Story: 50th Anniversary Edition (Buy Blu-ray at Amazon)
The winner of 10 Academy Awards, this 1961 musical by choreographer Jerome Robbins and director Robert Wise remains irresistible. Based on a smash Broadway play updating Shakespeare's Romeo and Juliet to the 1950s era of juvenile delinquency, the film stars Natalie Wood and Richard Beymer as the star-crossed lovers from different neighborhoods–and ethnicities.
•My Fair Lady (Buy Blu-ray at Amazon)
Based on George Bernard Shaw's play Pygmalion, My Fair Lady stars Rex Harrison as linguist Henry Higgins who draws Eliza (Audrey Hepburn) into a social experiment that works almost too well. A misogynistic and snobbish phonetics professor agrees to a wager that he can take a flower girl and make her presentable in high society.