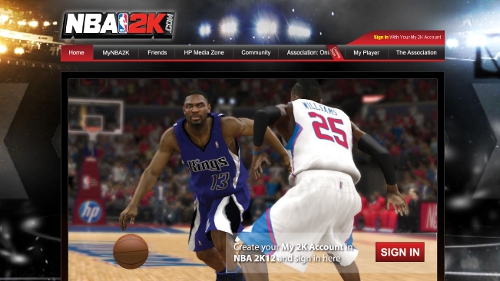 One of the most glaring failures relating to NBA 2K12 has been the continued absence of the official website which was advertised as carrying several anticipated features. While online problems have been discussed 2K Sports had left the case of the missing website to remain a mystery. Today the website finally launched but with only limited functionality.
Users log in with the My2K accounts that were required upon first starting up NBA 2K12. Currently operational is viewing of video and screenshot uploads, tracking of friends' activity, information from ongoing 'My Player' careers, the ability to attach/detach Youtube, Twitter, and Facebook accounts, and an area to submit questions to the developers.
In brief testing the uploads of highlight clips and screens did not appear for viewing on the site – maybe there is a backlog as the most recent shown in the 'community' area is from five days ago. Online ranked leaderboards are not found (they were previously said to be moved there after taking them out of the actual game) and the portal for managing Online Association is still labeled with the dreaded "coming soon" tag.