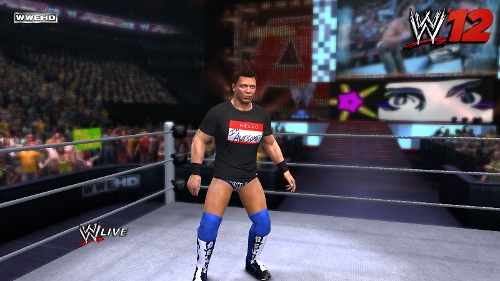 WWE 12 releases next week and with various pre-order deals it makes sense to look around and consider the options if one plans to buy the game. Because it hits stores in such close proximity to Black Friday it is unlikely to see any immediate deals on that date – though retailers have been showing a willingness to drop prices just days after they release now. 
It also means due to the holiday that going through online retailers could lead to a delay in receiving the game with estimated delivery dates showing the following week even when choosing overnight shipping. That may make this one of the rare cases where buying in a brick-and-mortar store makes the most sense unless that wait is justified for the savings.
Every retailer is offering a code, which is included in copies, to download The Rock. Beyond that however there are some variances:
•Gamestop – Exclusive 'Awesome Attire' for The Miz (see screen above). Can be had both online and in-store. No other incentives included.
•Amazon– $10 promotional credit for use on future purchase and possibly no tax depending on state. There is no release day shipping however.
•Walmart– $10 eGift card for use on a future purchase. Store pickup is not an option for the deal.
•Best Buy– $10 digital coupon for use on a future purchase along, 15% off the strategy guide, and the 360 version gets a free Randy Orton t-shirt for their avatar. Store pickup is an option that will apparently include the incentives if bought online.
•Kmart– $20 gaming coupon for use on future purchase. In-store deal and must be a member of the Shop Your Way Rewards Program which is free to join.
•Target- Offering for $47 on release day in-store.
•THQ store– This is the only place to buy The People's Edition which includes The Rock on the cover, a DVD, and a trading card. There is free standard shipping on all versions but no guarantee to arrive on or immediately after release day.
While Amazon is widely favored in most cases what may actually be the preferred deal here is going through Best Buy. The ability to purchase it online, get the $10 credit, and pick it up in store on release day could be the favored option along with Kmart which I'm still digging into on details. (Update) Target is selling it for $47 on launch day also making for an appealing option.