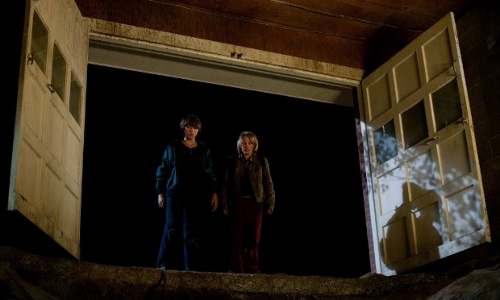 This week represents the final set of new DVD and Blu-ray releases heading into Black Friday. The group is led by the J.J. Abrams film Super 8, which is one of my favorites of the year, along with the box office bomb Conan the Barbarian. 
•Super 8 (Buy at Amazon: DVD or Blu-ray/DVD Combo)
JJ Abrams and Steven Spielberg join forces in this extraordinary tale of youth, mystery, and adventure. Super 8 tells the story of six friends who witness a train wreck while making a Super 8 movie, only to learn that something unimaginable escaped during the crash. They soon discover that the only thing more mysterious than what it is, is what it wants.

•Conan the Barbarian (Buy at Amazon: DVD or Blu-ray)
A quest that begins as a personal vendetta for the fierce Cimmerian warrior soon turns into an epic battle against hulking rivals, horrific monsters, and impossible odds, as Conan (Jason Momoa) realizes he is the only hope of saving the great nations of Hyboria from an encroaching reign of supernatural evil.
•Spy Kids 4 (Buy at Amazon: DVD or Blu-ray/DVD combo)
The action packed franchise is back…with the next generation of Spy Kids! Marissa Cortez Wilson (Jessica Alba) has it all: married to a famous spy-hunting television reporter (Joel McHale), with a new baby and intelligent twin step kids, Rebecca (Rowan Blanchard) and Cecil (Mason Cook). When maniacal Timekeeper (Jeremy Piven) disrupts her domestic bliss–threatening to take over the planet–Marissa comes out of retirement as a top secret agent. With Armageddon quickly approaching, Rebecca and Cecil are thrust into action! With a little help from some familiar Spy Kids friends, Carmen (Alexa Vega), Juni (Daryl Sabara), and their faithful dog Argonaut (Ricky Gervais) and some mind-blowing gadgets, they just may be able to save the world!
•Ice Age: Christmas Special (Buy at Amazon: DVD or Blu-ray)
When Sid (John Leguizamo) accidentally destroys Manny (Ray Romano)'s heirloom Christmas rock and ends up on Santa's naughty list, he leads a hilarious quest to the North Pole to make things right and ends up making things much worse. Now it's up to Manny and his prehistoric posse to band together and save Christmas for the entire world! This is set to air on Fox on November 24th and this releases on the 26th.
•ESPN 30 for 30 Collector's Set (Buy Blu-ray at Amazon)
ESPN Films 30 for 30 Limited Edition Collector Set, includes the complete collection of films from the ESPN award-winning 30 for 30 series. Featuring a remarkable group of directors from Academy Award-winners Barry Levinson and Barbara Kopple to Academy Award-nominees John Singleton, Steve James, Ron Shelton, as well as two-time MVP Steve Nash and legendary rapper Ice Cube, each filmmaker provides their unique perspective to some of the most extraordinary sports stories in the last 30 years. The 12-disc set includes all 30 films from the series: Kings Ransom, The Band That Wouldnt Die, Small Potatoes: Who Killed The USFL?, Muhammad & Larry, Without Bias, The Legend of Jimmy The Greek, The U, Winning Time: Reggie Miller vs. The New York Knicks, Guru of Go, No Crossover: The Trial of Allen Iverson, Silly Little Game, Run Ricky Run, The 16th Man, Straight Outta L.A., June 17th, 1994, The Two Escobars, The Birth of Big Air, Jordan Rides The Bus, Little Big Men, One Night in Vegas, Unmatched, The House of Steinbrenner, Into The Wind, Four Days in October, Once Brothers, Tim Richmond: To The Limit, Fernando Nation, Marion Jones: Press Pause, The Best That Never Was and Pony Excess.