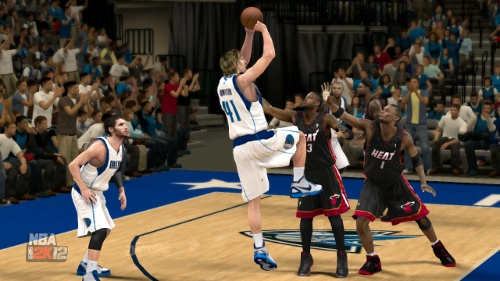 NBA 2K12 has faced the difficulties of a season delayed – one at times that looked unlikely to even materialize. Now though, with the owners and players having reached an agreement, it will get the benefit of a quasi re-release. Updates to the game coinciding with the return of the league will generate excitement that would have been absent in a typical December. 
There are many immediate questions that arise regarding NBA 2K12 given that the lockout is seemingly well on the way to being lifted. The most frequently asked regards rookies – it'll probably be over a week and up to two weeks before they can be added in a roster update. Not only does the CBA have to be completed which may not happen until late this week, but then it has to be voted upon and passed by both sides before it is official. After that all happens the rookies will need to sign their individual contracts before they become eligible to include in 2K12. The goal for teams will be to have the rookies ready for training camp which begins on 12/9.
Free agency will also start on December 9th – so roster movement will occur and be applied to updates following that point. 2K can start making some changes before then however should they choose to do so. The removal of players that won't be in the league this year (unless they now negotiate an out/those in China stuck until February) due to their overseas contracts such as Kenyon Martin, JR Smith, Wilson Chandler, Aaron Brooks and others could happen as should Ron Artest being corrected to Metta World Peace. Chances are though they'll wait until new players can be added in their place or there is other player movement that can justify a more significant first roster update.
2K Sports has never been very reliable/consistent when it comes to roster updates over the course of the season but they have a lot of motivation to do as much as they can as soon as possible. Each milestone will be something they can advertise and get 2K12 into the news with. They'll get a sales bump due to the excitement of the coming season as the value of the 2K12 has shot up immensely and right in time for the holiday sales rush.
Other elements of the CBA won't be reflected this year but instead will be implemented in 2K13 – those include changes to the salary cap, mid-level exceptions, and the amnesty clause for Association mode. Taking the real rookies to start with in My Player mode may not be possible for 2K12 given that the fake ones actually don't even show up in the mode despite being drafted (so it's not as simple as just replacing them). The new 66 game schedule for this season will not be able to be patched in for Association, however NBA Today should be able to offer the new schedule on a daily basis as that feature will return to relevance with the coinciding season.
It is going to be a hectic, but exciting, run up to the start of the NBA season and that means plenty to look forward to for NBA 2K12. That all will come in addition to the comprehensive patch that has been anticipated since severe issues were discovered following release of the game. That is expected to arrive in early-mid December.