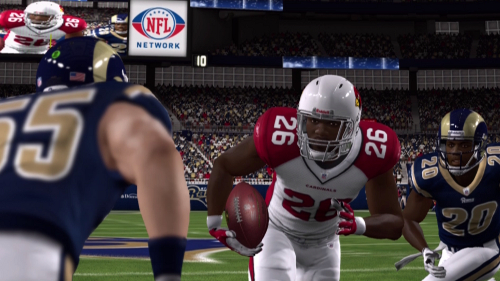 There are only five more games for each teams in the regular season and with that the playoff picture is starting to come into focus. Still, some players or teams are just now emerging, while others continue to climb or slide.
Players to look for a ratings upgrade this week on include Beanie Wells, Patrick Peterson, Laurent Robinson, Red Bryant, Terrell Suggs, Connor Barwin, and Matt Moore. Dropping will be Matthew Stafford, who has thrown nine INTs in the last three games and DeSean Jackson who got benched. This update will also reflect Kyle Orton being added by the Chiefs – and the discussion over whether Aaron Rodgers could get consideration for a 100 overall rating has become valid. Matt Leinart couldn't even last a half of football and is done for the season and Jahvid Best also moves to the IR. One of the best stories this year was Fred Jackson who's Madden NFL 12 rating went from 80 to start the year to a high of 93 (92 currently) but now heads to the IR as the Bills continue to sink.
As always leave your thoughts in the comments on which teams or players are deserving of ratings upgrades or downgrades in the next Madden NFL 12 roster update!