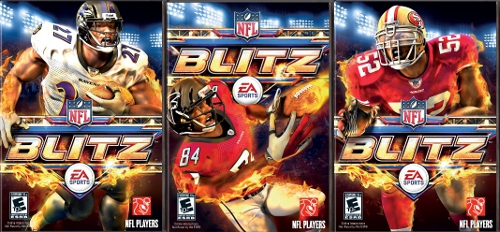 Continuing the trend of providing fans an opportunity to vote on a cover athlete – which has been done recently with franchises like NCAA Football, Madden, and Tiger Woods – EA Sports has offered up three candidates for the upcoming reboot of NFL Blitz. Given that it's a digital-download title through XBLA and PSN there will be no actual physical cover for Blitz however it will be promoted with the art that is ultimately chosen.
The three players who have earned the honor of being in the running as the front-man for Blitz are Ravens running back Ray Rice, Falcons receiver Roddy White, and 49ers linebacker Patrick Willis. Check out the three cover versions full size in the FB album.
Voting will open up during the Spike Video Game Awards show (on the official website) December 10th beginning at 8pm ET – that means other time zones who have the show tape delayed will need to visit the website to make a selection at that time as well. The winner will be announced later on in the show. Of the three who would you like to see get the honor of being the digital cover athlete for NFL Blitz?