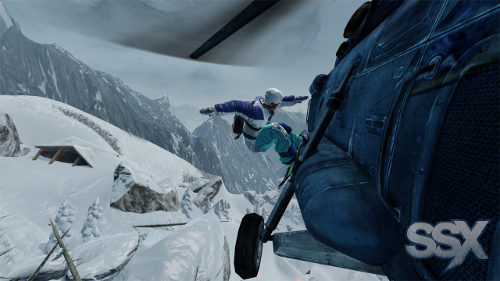 The detailed list of features for EA Sports' upcoming arcade-snowboarder SSX has surfaced. The main three modes (Race It, Trick It, Survive It) have been discussed at length over the course of the year. Along with that is 'RiderNet' which is an extension of the 'Autolog' feature introduced in Need for Speed, global online-based events that can feature up to 100K participants, and the ability to race against friends' ghosts in survival drops. Check out the latest screenshots in the FB album and continue on for the feature descriptions. 
•Conquer the Planet – From the Alps to the Andes, the Himalayas to the Rockies, ride some of the most iconic mountains in the world. Developed using real-world NASA topographical data and SSX's own proprietary Mountain Man tool, every region delivers an exaggerated gameplay experience that is true to the rich history of the franchise.
•Race It – SSX goes way beyond your typical racing experience. With wide-open terrain, multiple elevations and starting points, and no invisible walls, it's up to your skills and imagination to discover the fastest line down the mountain.
•Trick It – Defy the laws of gravity by pulling off tricks that would make even the world's greatest snowboarders cringe. Nevermind a 1260° Double McTwist – in SSX, you're still a beginner if you still have both feet strapped to the board while spinning 200 feet in the air.
•Survive It – Escape avalanches, rock slides, freezing cold temperatures, and more as you take Mother Nature head-on in hope of surviving some of the most treacherous descents on earth.
•Explore – Explore every drop in the massive world of SSX. Set your fastest time on Race Drops, post your highest score in Trick Drops, and descend as far down the mountain as you can in Survival Drops. Instead of a traditional leaderboard showing friends' times to beat, ghosts of your friends' runs are visible in your world showing you exactly how they performed. Challenge your friends' ghosts or let your ghost chalk up wins and losses as you dominate your way to the top of your friend leaderboards.
•Global Events – Compete at every drop point in the SSX universe. Compete in live events against real people in real-time on every drop in the game. An event can last for a single run, hours, or even days and can support up to 100,000 participants, with your friends and closest competitors phasing in and out of your immediate surroundings at all times. Post a time and move up or down the leaderboard even if you quit out and turn off your console.
•RiderNet – Inspired by the incredible Autolog engine that powered NFSHP, RiderNet will guide you through the incredible world of SSX by allowing you to 'like' your favorite drops, recommending new drops and friends, guiding you to where your friends are, or drops that their ghosts are dominating, and directing you to the biggest and best global events for your level.
•Legendary Characters and All-new Icons – Favorite fan-selected characters, including Elise, Kaori and Mac make their return, joining new faces on the slopes.
•Every Moment is a Rush – A revolutionary physics engine pushes the boundaries and defies the laws of reality, allowing you to ride and trick off anything, unrestricted by invisible walls and barriers.