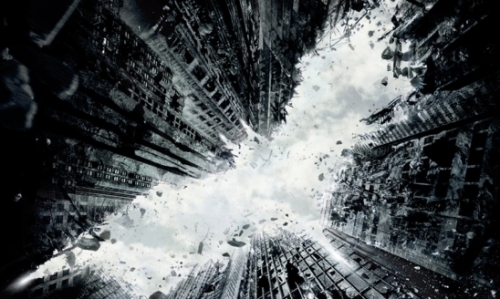 The Dark Night Rises doesn't release until June 20th but fans will have the opportunity to see early footage attached to a limited number of IMAX screens showing Mission: Impossible – Ghost Protocol beginning on December 16th. M:I4 is opening five days early on some IMAX screens – including these select ones which have been carefully chosen – and only provides more incentive to run out and see what is being buzzed about as a great action film and get the bonus of some highly anticipated Batman footage!
A six minute prologue for The Dark Knight Rises is being attached to the front of Ghost Protocol prints in 26 US cities, 7 in Canada, and 4 in the UK totaling 42 specific theaters where it will be run. The prologue has been described by director Christopher Nolan as being essentially the first six minutes of the film uninterrupted.
Tickets for these shows are sure to sell out and probably well in advance so it may be wise to purchase them now if available. Only the ones below will offer the prologue – not all IMAX locations. The 12:01am showings on December 16th will be in especially high demand.
Austin, TX – IMAX Theater Austin
Boston, MA – Jordan's IMAX
Boston, MA – IMAX 3D Theatre in Reading
Calgary, AB – Scotiabank Theatre Chinook 16 + IMAX
Chantilly, VA – Washington, DC Udvar-Hazy Center IMAX
Chicago, IL – Navy Pier IMAX Theatre
Des Moines, IA – SCI IMAX Dome Theater Des
Detroit, MI – Henry Ford IMAX
Edmonton, AB – Scotiabank Theatre Edmonton + IMAX
Harrisburg, PA – The Whitaker Center for Science & the Arts IMAX
Houston, TX – Houston Marq*e Stadium 22 + IMAX
Indianapolis, IN – White River IMAX
Los Angeles, CA – Irvine Spectrum 20 + IMAX
Los Angeles, CA – RAVE 18 + IMAX
Los Angeles, CA – Ontario Palace Stadium 22 + IMAX
Los Angeles, CA – Citywalk Stadium 19 with IMAX
Madison, WI – Star 18 Fitchburg with IMAX
Miami, FL – AutoNation IMAX
Minneapolis, MN – Great Clips IMAX
Montreal, QC – Cinema Banque Scotia Montreal + IMAX
Nashville,TN – Opry Mills Stadium 20 + IMAX
New York, NY – Lincoln Square 13 with IMAX
New York, NY – Palisades IMAX
Omaha, NE – Star Cinema 16 with IMAX
Orlando, FL – Pointe Orlando Stadium 20 + IMAX
Ottawa, ON – Silvercity Gloucester + IMAX
Palm Springs, CA – Desert IMAX Theatre
Philadelphia, PA – IMAX & the Tropicana
Philadelphia, PA – Tuttleman IMAX – Franklin Institute
Phoenix, AZ – Arizona Mills 25 with IMAX
Providence, RI – Providence Place 16 with IMAX
Quebec City, QC – IMAX Le Theatre At Quebec
Sacramento, CA – Esquire IMAX
San Antonio, TX – IMAX at RiverCenter
San Francisco, CA – Metreon 16 with IMAX & ETX
Seattle, WA – Boeing IMAX Pacific Science Center
Tampa, FL – Museum of Science and Industry (MOSI)
Toronto, ON – Coliseum 12 Mississauga + IMAX
Toronto, ON – Scotiabank Theatre Toronto + IMAX
Toronto, ON – Colossus 18 Woodbridge + IMAX
Vancouver, BC – Colossus Langley + IMAX
Vancouver, BC – Silvercity Riverport 18 + IMAX
UK – BFI London
UK – National Media Museum IMAX Bradford
UK – Glasgow Science Centre IMAX Cinema
UK – Odeon Manchester IMAX @ The Printworks