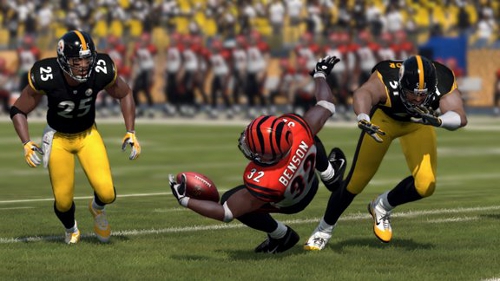 Three quarters of the NFL season is now in the books. Injuries continue to take their toll around the league – Sidney Rice and Marcus McNeill will be headed to the IR and Matt Forte could miss the rest of the regular season. The Redskins may also take a hit as Trent Williams and Fred Davis are expected to be suspended for the remainder of the year. The next roster update for Madden NFL 12 will also see Donovan McNabb dropped from the Vikings and on no team's roster for the first time since entering the league along with Madden 2000.
Look for Marshawn Lynch to rise – no running back in the league has performed better the last 5 weeks (591 yards) and he has a league-leading 8 straight games with a TD. Chris Johnson may finally be back as for the first time this year he put up back-to-back 100+ yard performances (343 yards combined). Rob Gronkowski now has 13 TDs which sets the single season record for a tight end while Cam Newton set the mark for rushing TDs by a QB.
Roy Helu, Percy Harvin, Matt Moore, Justin Houston, Aldon Smith, and Ray Rice are all likely to receive positive attention as well. Headed downward will be Vince Young, who on passes that travel beyond 15 yards now has 0 TDs to 8 INTs – he can be joined by DeSean Jackson who continues to damage his perception in a contract year. Cedric Griffin and Caleb Hanie are just a couple others who are likely to fall a bit in this update.
As always leave your thoughts in the comments on what players and/or teams should get ratings boosts or downgrades in the upcoming roster update for Madden NFL 12!