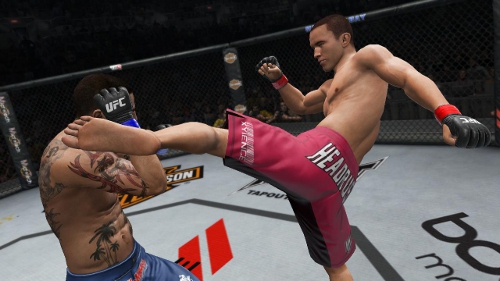 In a recent video interview UFC Undisputed 3 producer Neven Dravinski let slip that a closed pre-release beta is on the way. That news was then followed by confirmation through a forum posting by an official THQ rep however no further details beyond that have been made available.
Given the time frame, with only two months until release, it would seem likely that the beta will be online-centric and/or focus on gameplay balancing. It would be unreasonable at this point to expect any major changes based on beta feedback to be implemented for the retail product – the short period of time available is even more constrained considering the game will need to "go gold" and enter the mass production stage in about a month. While feedback through the process will likely end up implemented in a patch either at release or soon after the intention may be more to test the servers that the company has so mightily struggled with for WWE 12. 
The topic was touched on recently given that WWE 12's online functionality hasn't just been poor it has for much of the time been outright unavailable. THQ, who is struggling financially, can not afford blowback against a high-profile franchise especially one that exhibits so much control over image as the UFC. Despite the problems with UFC 2010's online play and disappointing sales numbers the company extended their exclusive licensing agreement with THQ though 2018 – but with the understanding that the game would no longer be a yearly release and the necessary resources would be spent on producing a top-notch product.
The most prominent recent beta was that of Gears of War 3 which opened up four months before the game arrived in stores. Feedback was able to make it in for release that included server balancing and weapons tuning. UFC 3 would be operating under tighter time constraints but there still could be positive impact coming out of it. Don't expect something of the magnitude like the new submission system to be changed completely no matter how negative the response is. Instead aspects along the lines of moves discovered to be over-powered like Lyoto Machida's takedown in 2010 or Super CAFs (both of which had to be patched in 2010) could be dealt with immediately and addressed in a day-one patch.
Betas are typically not possible for sports titles due to their locked in release dates that are either mandated due to league licensing or carefully selected for a reason. In the case of UFC it could come out at any point in the year – there are heavily promoted events held every month. Fight Night Champion earlier this year held what acted as a quasi-beta in an early release demo that featured online functionality and led to a "tuner update" before the game had even hit shelves.
UFC 3 was originally planned for release in early January but pushed back to February 14th which either provided the opportunity to hold a beta or was moved in order to accommodate one. A demo is still expected and currently targeted to release in late January. Updates on the closed beta will be posted about as any additional information is provided.