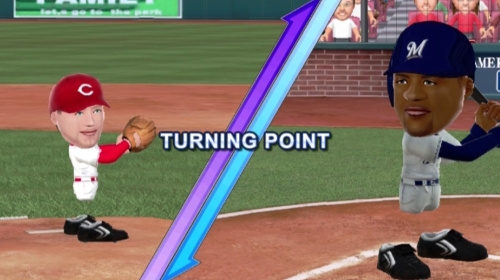 A sleeper of an arcade-style game tends to sneak its way into the top 10 countdown each year. This time around that game is MLB Bobblehead Pros. As a downloadable title for $10 it arrived on XBLA in early July and was supposedly on the way for the PS3 also but that, for whatever reason, never materialized. Instead MLB Bobblehead Pros makes the list for arguably being the best playing baseball game available on the 360 in 2011. 
The ranking of games in the best of 2011 list is based on number of factors including the personal amount of enjoyment had with a particular title, whether advertised features were fully delivered, post-release support, community interaction and communication, overall gameplay experience, feature set, and online play performance. Again this is largely a personal take and one with the advantage of tracking the games beyond just the release frame and does not act as some sort of recap of those with the highest scores on Metacritic. The analysis is weighted heavily towards those high in fun factor while considering them as a whole and compared relatively to the field.
Related: MLB Bobblehead Pros Hits and Misses Review – – – Gameplay Videos
For $10 Bobblehead Pros was a game that packed in value – with a full season mode and online play. There were also add-ons released in the way of a Home Run Derby and "Bobblehead Battles" though there was considerably less enthusiasm over those which cost an additional $5 each. The season mode being locked to 162 games was discouraging, online play wasn't well populated with potential opponents, and the CPU was far too predictable in their tendencies. Regardless Bobblehead Pros provided a great deal of fun with gameplay that bordered on being considered a "sim" in many aspects.
It was unanticipated just how well some of the basic fundamentals of baseball would be represented. Essentially Bobblehead Pros was a re-skined Power Pros which as a series has been highly regarded for how well it has played despite being an arcade-style representation at least in its visual style. Smart baseball strategy was rewarded and even things like pitch counts and fatigue were better represented than in MLB 2K11.
Considering the initial price and enjoyment level reached MLB Bobblehead Pros earns a place in 2011's countdown of top 10 sports games. The final slot in past years have generally been filled by games that had overly mixed reactions or largely disappointed dedicated fan bases but still had some redeeming qualities. In this case it's a largely overlooked arcade-style game that, in what it lacked in longevity, was made up for in being a pleasant surprise.
Earlier Year-in-Review Pieces
•#10: MLB Bobblehead Pros
•Vote for the Community Choice Awards