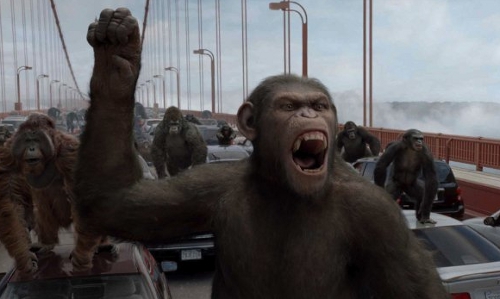 Some highly regarded summer films arrive on DVD and Blu-ray this week. Rise of the Planet of the Apes, which many believe to be one of the best movies released during the summer season, is joined by two others that were well-reviewed in Kung Fu Panda 2 and the Fright Night remake.
•Rise of the Planet of the Apes (Buy at Amazon: DVD or Blu-ray/DVD Combo)
A single act of both compassion and arrogance leads to a war unlike any other — and to the Rise of the Planet of the Apes. The Oscar-winning visual effects team that brought to life the worlds of Avatar and Lord of the Rings is breaking new ground, creating a CGI ape that delivers a dramatic performance of unprecedented emotion and intelligence, and epic battles on which rest the upended destinies of man and primate.

•Kung Fu Panda 2 (Buy at Amazon: DVD or DVD/Blu-ray combo)
In Kung Fu Panda 2, Po is now living his dream as The Dragon Warrior, protecting the Valley of Peace alongside his friends and fellow kung fu masters, The Furious Five. But Po's new life of awesomeness is threatened by the emergence of a formidable villain, who plans to use a secret, unstoppable weapon to conquer China and destroy kung fu. Po must look to his past and uncover the secrets of his mysterious origins; only then will he be able to unlock the strength he needs to succeed.
•Fright Night (Buy at Amazon: DVD or Blu-ray/DVD combo)
Senior Charlie Brewster (Anton Yelchin) finally has it all-he's running with the popular crowd and dating the hottest girl in high school. In fact, he's so cool he's even dissing his best friend Ed (Christopher Mintz-Plasse). But trouble arrives when an intriguing stranger Jerry (Colin Farrell) moves in next door. He seems like a great guy at first, but there's something not quite right-and everyone, including Charlie's mom (Toni Collette), doesn't notice. After witnessing some very unusual activity, Charlie comes to an unmistakable conclusion: Jerry is a vampire preying on his neighborhood. Unable to convince anyone that he's telling the truth, Charlie has to find a way to get rid of the monster himself in this revamp of the comedy-horror classic.
•Transformers Trilogy (Buy at Amazon: DVD or Blu-ray)
For a limited time get Transformers, Transformers: Revenge of the Fallen and Transformers: Dark of the Moon together in this Blu-ray pack. See how the battle unfolds as Sam Witwicky (Shia LeBeouf) and the Autobots battle the Decepticons in an epic showdown for the survival of mankind.
•The Rocketeer: 20th Anniversary Edition (Buy Blu-ray at Amazon)
Joe Johnston helmed this action-adventurer, set in 1930s Hollywood and in the spirit of old pulp comics and adventure serials. Bill Campbell stars as Cliff Secord, an eager young pilot who finds himself in possession of a secret jet-pack that gives him the ability to fly. Cliff soon learns that screen-star Neville Sinclair (Timothy Dalton) will stop at nothing to get his hands on the rocket pack so he can give it to the Nazis. As The Rocketeer and with a little help from his mechanic friend played by Alan Arkin, it's up to Cliff to elude Sinclair, defeat the Nazis, and save his girlfriend Jenny (Jennifer Connelly).