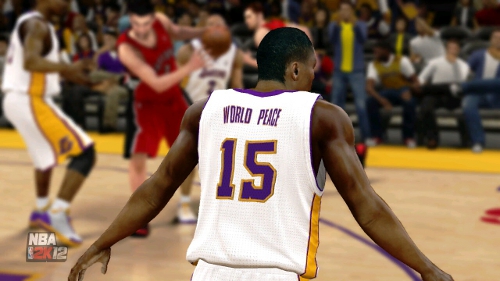 2K Sports pushed out the first roster update for NBA 2K12 early this morning. The update includes some of the rookies that have been officially signed and player movement that has taken place within the initial few days of the new league season.
Of note in this first update is the removal of Brandon Roy (retirement) and the players stuck over in China, Shane Battier to the Heat, Caron Butler to the Clippers, Tyson Chandler to the Knicks, and Tracy McGrady to the Hawks. Ron Artest has his name changed to Metta World Peace and though the PA announcer says it the commentators still refer to him as Artest.
The update is missing a significant number of moves that have already been completed. Lamar Odom remains on the Lakers, Gilbert Arenas on the Magic, and David West on the Hornets. Jimmer Fredette, Kemba Walker, and many of the rookies that have inked their deals were not added – in fact only four rookies total are introduced with the update.
Many are sure to express disappointment at the incomplete nature of the update but it does establish simply getting that first one out of the way so that the next one to come (probably later this week) can sweep through and catch up completely.