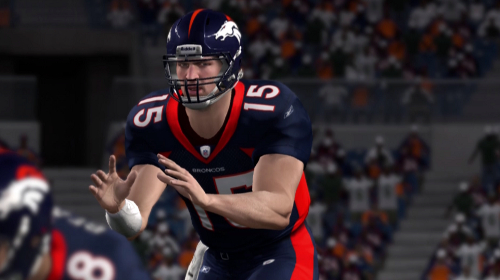 It was a weekend full of dramatic finishes in the NFL – the improbable Broncos comeback victory, the Texans winning the AFC South with a last second TD, the Titans coming up short to allow that to be clinched, the Lions holding off the Vikings with the help of a missed facemask, and the Cowboys blowing a late-game lead in their typical fashion.
Names to look for on the rise due to big performances include Jason Pierre-Paul, Doug Baldwin, Matt Prater, T.J. Yates, Cory Redding, Jake Locker, Jared Allen, and Joe Webb. Rob Gronkowski will continue to rise and at this rate could approach the high 90's before the end of the season. Sure to be headed down are Marion Barber (at least awareness), Peyton Hillis, and some under-performing QBs like Carson Palmer, Sam Bradford, and Blaine Gabbert.
It was a big week for impact injuries as well – rising star DeMarco Murray is done for the year as is Jim Leonhard. Greg Jennings will be out probably until the playoffs, while Ben Roethlisberger and Maurkice Pouncey both suffered high ankle sprains that could cost them some time.
Leave your thoughts in the comments on what players or teams are deserving of ratings recognition whether that be boosts or drops in the upcoming Madden NFL 12 roster update!