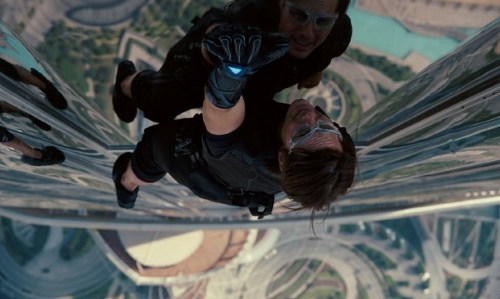 Dormant since the third entry in the series arrived in 2006 – that one helmed by J.J. Abrams garnered good audience and critical response – Mission: Impossible returns and with rookie live-action director Brad Bird of Pixar fame. What materializes is arguably the best of the franchise delivering some tremendous action sequences coupled with a credible story that elevates it beyond just being a series of incredibly impressive set pieces. 
When IMF is framed for the bombing of the Kremlin – four agents including Ethan Hunt (Tom Cruise) must go underground to stop a plot to beget nuclear war while also clearing their names. Hunt is joined by the returning Benji (Simon Pegg) and newcomers Jane (Paula Patton) and Brandt (Jeremy Renner).
Bird shows incredible skill at framing fight scenes and providing some beautiful shots of locales. Being set in Russia, Dubai, and India allowed for plenty of opportunity to capture some great looking footage. The scenes with Hunt on the outside of the Burj Khalifa building were so anxiety-ridden that I almost got uncomfortable watching. That might be partially due to knowing that Cruise was actually hanging out there doing his own stunts and that it wasn't CGI – regardless it goes to show just how much impact the film had in delivering an intense experience through its action and sense of suspense which carried through to the other scenes as well.
Ghost Protocol leans heavily on Cruise who delivers an outstanding performance – an example of his undeniably strong screen presence that shines through more here than maybe ever before. The others do well also in their roles – Patton in particular was subdued in a way that typically isn't reserved for the "sexy" lead female.
If there is any area that falls somewhat flat it is some of the attempts at humor – which are handled in a subtle enough manner that any misses didn't hurt the film. What the lighter dialogue did do was provide some levity and a chance to breathe in what was practically non-stop adrenaline pumping action from start to finish. There is also a human touch to the story and the relationships between the characters. I particularly liked the ending – which wrapped things up in a very satisfying fashion that went beyond what one would expect out of a typical action movie.
Several scenes were shot with IMAX cameras – for those who have a (real) IMAX theater nearby it's definitely worth paying extra for. The visceral nature of those scenes are amplified greatly.
Mission: Impossible – Ghost Protocol is one of the best action films in recent years. The combination of spectacular action, great performances, expert direction, and a competent story driving the events has become a rarity and Ghost Protocol delivers in every way.
Rating:





Mission: Impossible – Ghost Protocol is rated PG-13 and is open now on select IMAX screens. The film goes wide on Wednesday December 21st.