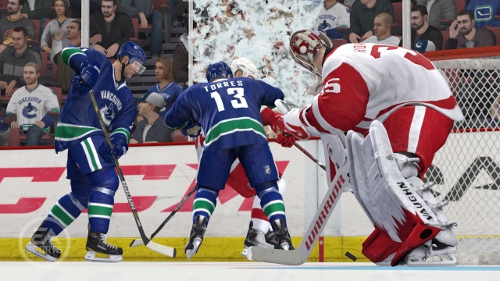 The NHL series has been one of the most steady sports offerings over the last several years. EA Sports innovated and delivered vast improvements earlier this console generation but has started to come under increased scrutiny for lack of advancement the past few years. While it didn't completely break out of that growing perception NHL 12 delivered enough improvements to keep the majority pleased at least for one more year.
The ranking of games in the best of 2011 list is based on number of factors including the personal amount of enjoyment had with a particular title, whether advertised features were fully delivered, post-release support, community interaction and communication, overall gameplay experience, feature set, and online play performance. Again this is largely a personal take and one with the advantage of tracking the games beyond just the release frame and does not act as some sort of recap of those with the highest scores on Metacritic. The analysis is weighted heavily towards those high in fun factor while considering them as a whole and compared relatively to the field.
Termed the "hat trick of innovations" NHL 12 delivered enhancements based on 'anticipation AI', a new physics engine, and dynamic goalies. For the most part they delivered in those areas – though the extent to which they ended up mattering can be called into question. The physics engine was not quite as impactful as some initially anticipated it would be, while associated hip checks were out of control and severely damaged realism.
In an effort to capitalize on the "legends" craze EA hyped up the addition of their own – which turned out to only be nine (not even enough to form their own team). Be a Pro mode made some important changes helping it remain one of the best career modes in sports gaming. Bringing in the Winter Classic was long overdue, and though it was handled well it was still relegated to using the previous year's venue (Heinz Field). There was also an issue for a time with "pile" slots in Ultimate Team that took far too long to be addressed – while the Winnipeg Jets didn't get their jerseys added until mid-November.
NHL 12 contained a great deal of quality content both offline and online – it just didn't do anything dramatic to expand its value or help it appeal to a larger audience. The gameplay and feature tweaks that were made, though certainly appreciated by those who continue to enjoy the series, arguably came up short against expectations considering other areas of concern that continue to go unaddressed.
Earlier Year-in-Review Pieces
•#8: NHL 12
•#9: Fight Night Champion
•#10: MLB Bobblehead Pros
•Vote for the Community Choice Awards