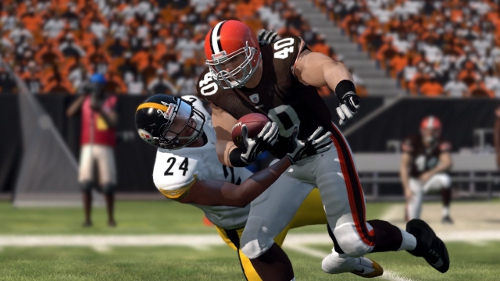 During (and following) the fan-voted cover tournament eventual Madden NFL 12 cover athlete Peyton Hillis stated that he "didn't believe in curses". After a troubled season that has included injuries/illnesses, fans and teammates questioning his level of dedication, and marginal at best impact when on the field he has starkly changed that opinion. Now Hillis is exclaming  his feeling of being "cursed" – a reference to the famed tribulations that are encountered by the players who grace the cover of the Madden NFL franchise.
"Things haven't worked in my favor this year,"…"There's a few things that happened this year that made me believe in curses. Ain't no doubt about that."
Of course it wasn't as though Hillis was coming off the sort of consistent high-level play that generally accompanies cover recognition. He's only had back-to-back 100 yard games once in his career (week 3/4 of  the 2010 season). Hillis got the cover due to the strong support that came from the Browns fan base who reasonably could have pushed just about any of their players through to win the competition.
The Madden "curse" however is simply coincidence and often the likelihood that a player would not be able to replicate a previous "career-year" level of production with the luck of making it through a season uninjured. Had Michael Vick, or Peyton Manning, or Jay Cutler, or Jamaal Charles, or any number of players who got injured or had disappointing years been on the cover then it would've been written off to the "curse" too. Instead Hillis was coming off a season where he had some highlight reel plays and a handful of big games but had never actually established himself as an upper-tier player so it shouldn't be a huge surprise that he couldn't live up to raised expectations.