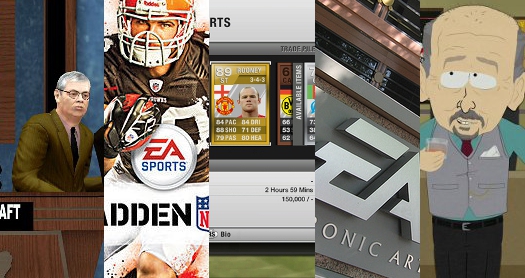 This year brought about many significant developments in sports gaming – from news on exclusive licenses and effects of lockouts, to major changes taking place at the EA Sports Tiburon studio and the introduction of a subscription service, along with continuing concerns over account security with ties to FIFA. There was a lot that happened that will influence the genre going forward. Continue on for recaps of 2011's most important stories.
NFL and EA Sports Extend Exclusive License
The uncertainty over the NFL lockout lead to the league and EA Sports agreeing to a one year extension of the exclusive license after the company was granted a significant break (upwards of $30 million) for the current year. That means the exclusive now runs through Madden NFL 14.
The developments however indicate clearly that EA is the less satisfied party in the deal. While the NFL would prefer to keep things going with the current terms it would not be surprising if EA were to give up exclusivity in return for greatly reduced licensing fees – or at the very least negotiate much more favorable terms in any extension to come. There is little chance at this point of a competitor threatening their reign and opportunity fades more with every year that goes by. Even if another company had the chance to produce an NFL console game they very well may not find the risk and associated costs to be worth taking on.
Big Development Team Changes at Tiburon
A wave of high-profile defections from EA Sports' Tiburon studio will shape several series going forward. It began with Madden NFL creative director Ian Cummings and multiple other senior members, followed by EA Sports NBA executive producer Jeremy Strauser, Madden NFL executive producer Phil Frazier, and NBA Jam creator (and overseer of other projects) Mark Turmell. They all moved on to social gaming companies joining former Tiburon execs like John Schappert and Steve Chiang (Zynga) and Philip Holt (Row Sham Bow).
All the changes have resulted in a shift in leadership. Cam Weber now acts as GM of football products, Roy Harvey takes over the executive producer role with Madden after having held that position with NCAA Football, and Dale Jackson moves to executive producer on EA NBA having last led EA MMA. Mike Young is creative director on Madden NFL with Kolbe Launchbaugh just brought on to help with the transition to the next generation of consoles.
League Lockouts Affect Madden and NBA 2K
Lockouts were the big sports stories that carried for extended portions of the year. The NFL agreement came before any games were missed – and if anything further concentrated fan excitement for the free agent frenzy and start of the season helping to increase sales of Madden 12 vs the previous iteration.
The effect on NBA 2K12 though was much more realized. Sales were down significantly – due in large part to fan discontent over the lockout, old rosters/no rookies, and features that were negated with no ongoing season. The recent return of the NBA did increase relevance and interest in the product but came far too late to recoup the losses incurred or recover from the damage inflicted over the months prior.
EA Sports Introduces the Season Ticket
EA Sports launched the subscription service known as the "Season Ticket" to little fanfare but also while avoiding a wave of backlash. It really wasn't advertised at all but its appeal was still quite limited. For $25 the optional service provides access to games three (or more) days early via digital-download and a 20% discount on all DLC purchased.
For the most part it was received well by those who purchased it due to the early access to the games – through the procedure of which as they expire and require the full game be bought independently even after having downloaded is not ideal. Money wise the savings on DLC would not make it a worthwhile buy on its own but it's hard to put a price for some on getting to play the games early. That the option to carry DLC over from one year to the next was not included (primarily a Tiger Woods concern) was the biggest disappointment.
Voting for Cover Athletes
EA Sports went with a new strategy this year by turning the cover athlete selection into a marketing campaign. Rather than getting one press release out of a cover announcement they have been able to make the process a story over a longer period of time by involving the fans.
This was no more evident than with Madden NFL 12. A cover tournament that included 32 candidates succeeded brilliantly in raising awareness that the game would be releasing whether the lockout affected the season or not. At that point the company was inundated with questions about whether Madden 12 would even release. By the time it was completed those concerns were concerns were completely squashed and they were able to move on to marketing the game rather than informing consumers of its status in light of the lockout.
The other positive marketing wise is that it absolves the company of some responsibility in eventual representatives that may have image issues. Rather than EA choosing Michael Vick, and facing an onslaught of outrage from PETA and the like, they would be able to say it was the fans who ultimately made the decision. Of course they were the ones who ultimately made it a possibility, and PETA did complain during the process, but they would still be able to deflect potential criticism to an extent.
The cover of NCAA Football 12 was determined through a vote as was the "digital cover" for NFL Blitz. THQ even followed suit by letting fans choose between five different fighters for the upcoming UFC Undisputed 3 with Anderson Silva victorious.
Broken vs Disappointing
This was a year in which almost every game had its share of widely discussed issues – some to a greater extent than others of course. It prompted much needed discussion over the difference between a game – or maybe more specifically its features – being flat out broken or simply just failing to live up to expectations.
NCAA Football 12 and NBA 2K12 had elements that were in fact broken or delivered in an incomplete fashion while other titles like Madden NFL 12 or MLB 11: The Show may have come up short in certain areas of importance but still met their base requirements. It's a fascinating discussion to have when trying to determine what is what but 2011 helped it become more well defined with blatant examples of both.
Where the line is drawn though has to be when advertised features don't work properly. That could be NCAA 12 with custom playbooks or NBA 2K12 with its online play for a period of time following release. Companies shouldn't be allowed to get away with releasing products in that state and trying to rectify them with patches weeks or months later.
EA Sports Shifts Release Dates With Great Success
Two release date moves this year produced increased sales that can at least can be partially attributed to when they arrived in stores. Tiger Woods PGA Tour 12 came out only a week before The Masters (which it featured prominently for the first time ever) and Madden NFL 12 was pushed back three weeks to near the start of the regular season rather than early in the pre-season. They capitalized on the increased fan excitement around their respective sports.
These two series could make the change because they face no direct competition. The sports that do (NBA/MLB) have release dates designated by the leagues. Moving back and giving the competitor a jump rather than releasing as soon as possible would be sales suicide.
Roster Updates Continue to Be Game Sellers
One of the biggest lessons from 2010 was that new rosters are what drive sales of sports titles more than anything else. That was again the case this year as shown by effect of the NBA lockout which drastically damaged sales of NBA 2K12. Having essentially the same rosters as 2K11 was one of the primary factors in consumer purchase decisions. 2K12 owners are still bothered by the fact that second rounders have yet to be added. Meanwhile a game like NBA Jam: On Fire Edition, which relies far less on authenticity, is still taking heat for (thus far) failing to live up to the advertised feature of roster updates.
Unauthorized Xbox Account Access Leads to Spending on FIFA Items
Though no side, not Microsoft or EA Sports, is accepting fault in the matter – a wave of Xbox Live "hackings" have been in the news throughout the final quarter of the year. "Social engineering" is what it's being chalked up to by MS but many of those afflicted take issue with that explanation of what is taking place and believe a more nefarious tactic is being utilized to hijack accounts – and then be left with upwards of a month waiting to regain access.
Once the "hacker" has access to an Xbox account they are using it to spend money (Microsoft points on the account or the credit card tied to it) to make purchases through FIFA Ultimate Team mode in FIFA 12 or FIFA 11. The reason for this is because these items can be flipped on sites like Ebay for pure profit. The "hackings" continue with no definite resolution in sight.
Motion Gaming Tails Off in Relevance
2010 was a big year for motion gaming with Kinect for Xbox 360 and PlayStation Move both hitting the market. 2011 however showed its limitations. There were no innovative breakout hits within the sports genre utilizing motion controls. MLB 11: The Show and Tiger Woods 12 both had specific forms that utilized Move but few gamers out there cared to bother with it.
Meanwhile EA Sports announced that many of their franchises would utilize the hardware, specifically Kinect, in the future – including Madden NFL and Tiger Woods. Where it may be most useful in regards to Kinect is with the implementation of voice commands best demonstrated in Kinect Sports: Season Two. Actual motion control schemes are really not desired by the sports gaming crowd.
EA Sports Gets Back into Baseball
With the third party exclusive MLB license set to expire after 2012's round of games many are anticipating the return of MVP Baseball from EA Sports. The current license holder, 2K Sports, is not going to renew and the MLB 2K series is likely to then be shut down.
It wasn't MVP Baseball that made the news this year though instead EA's foray back into baseball through the Facebook game World Series Superstars. The free-to-play microtransaction supported model followed others like Madden NFL Superstars and FIFA Superstars on the social media platform. Though not the game everyone was waiting for it did provide additional hope for that to materialize given a renewed relationship between EA and MLB.
Beta Periods Emerge for Bi-Yearly Titles
Yearly sports franchises don't have the luxury of adjusting release dates – they are either mandated by league licenses or fall within important frames that are critical to their success. Bi-yearly titles however, like the Fight Night and UFC series, can be more flexible – therefore providing an opportunity to take advantage of a beta period and make tweaks to the games that will be of later benefit to consumers.
THQ launched an online-centric beta for UFC Undisputed 3 in late December while Fight Night Champion took advantage of an early demo (out a month before release) to collect feedback and deliver a "tuner update" before the game had even hit store shelves.
2K Sports Runs Shameless Promotion for Top Spin 4
Sex as the selling point for a sports video game? That's what 2K Sports attempted with their borderline offensive and sexist marketing campaign for Top Spin 4 featuring Serena Williams in an "unauthorized" video. The backlash was harsh, and 2K attempted to claim that the video was not intended to go public, but it was obviously sanctioned for the purpose of creating a stir and succeeded in that regard.
Fight Night Champion Distributed Digitally by Individual Modes on PSN
In November Fight Night Champion arrived on PSN for $30, same as on the 360, but with additional options. "Champion" (story) mode could be purchased on its own for $5, "Fight Now" for $5,  "Legacy" (career) mode for $10, and "Online" play for $10. Though it remains unlikely that games will be offered in this fashion at or around typical release it does make a lot of sense for titles that have run their course.  8 months later EA could pull in some extra revenue from the game given that those people who didn't buy it by now were unlikely to buy it in whole at all but may have been tempted by the new pricing model.
In the case of FNC offering the chance to play the heralded story mode without having to invest in the entire game, or play whatever mode was of most interest, made for an intriguing development and one that will hopefully be the start of a trend.
PSN Hacking Hurts MLB 11: The Show
PSN was hacked in April – resulting in user's personal data such as usernames, passwords, email addresses, home addresses, birthdays and possibly even credit cards being exposed to the culprits. To recover and implement better security for the future Sony took down the online service for 23 days. That meant no online access for The Show (or any other PS3 game for that matter) for what would have been a high-activity period of time early in the MLB season.
Peter Moore Gets Promoted
After heading up EA Sports as president since 2007 Peter Moore was promoted to COO of Electronic Arts in August. Andrew Wilson has taken over the lead of the EA Sports division.
UFC Buys Strikeforce – Deathblow to EA MMA
EA Sports MMA 2 was still planned until Zuffa (parent company of UFC) purchased the Strikeforce promotion in March. Strikeforce was the main form of branding for EA MMA and losing it killed any chances of a sequel and the viability of any MMA game coming from the company – the MMA development team was then shifted to other projects.