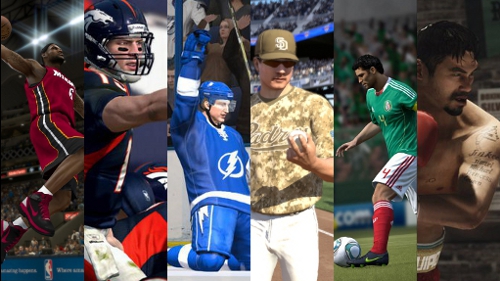 After tallying over 21,000 votes across the various categories it's time to take a look at the results and crown the winners of the 2011 Pastapadre Community Choice Awards! 
Best Sports Game of 2011 – FIFA 12
In a relatively easy victory FIFA 12 takes the top award for 2011 by collecting over 55% of the vote. The most popular sports game in the world has gained traction over the last few years in North America sales wise and in relevance – it probably would not have been able to come out on top of a vote over more popular domestic sports until now and doing so says a lot about the product. FIFA 12 was truly a complete game featuring numerous deep modes and well-executed features, great gameplay, fantastic online performance, and a willingness to innovate despite its top of the mountain status. For a console exclusive The Show has a very strong following and produced a good percentage of votes in the category and there's nothing to be ashamed of for Tiger Woods given that a golf game being able to pull in 12% is impressive in itself.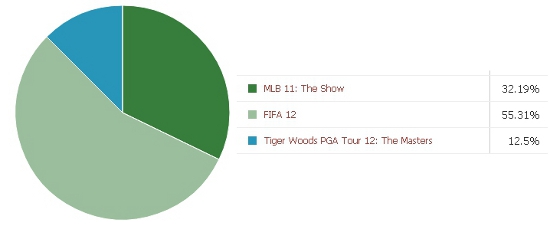 Best New or Non-Yearly Sports Game – Forza 4
The three nominees in this category were starkly different – a simulation racer, an M-rated boxing game featuring a story mode, and an arcade fighter. The result was a competitive three-way race with Forza 4 taking the crown as a title that satisfied car fanatics and racing-game fans alike.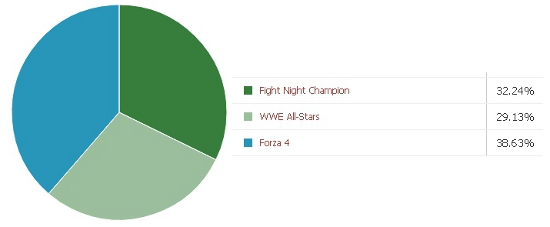 Best Arcade-Style Sports Game – NBA Jam: On Fire Edition
Arcade-style games have fallen out of favor over the course of this generation but two especially strong efforts released in 2011. NBA Jam: On Fire Edition wins out with impressive value and fun-factor for a $15 digital-download title. One has to wonder though if EA Sports' failure to provide promised roster updates would have affected results if the issue had been known to be coming during the voting period. WWE All-Stars was a really solid effort for the launch of a new prospective franchise but the full $60 price tag plus asking for more to obtain DLC wrestlers meant its playing-exposure was probably less than that of Jam.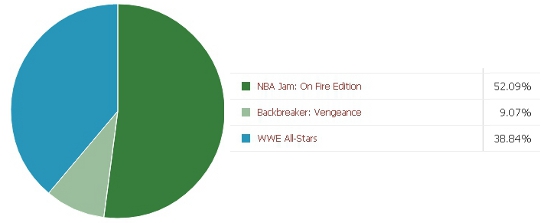 Best Mobile Sports Game: NBA Jam
The biggest blowout of all the categories came in mobile – which had an especially strong year of offerings – as NBA Jam pulled in 67% of the vote. It was the most high-profile of the nominees so that played a part but Jam was unusually well-suited for mobile and EA actually went to lengths of supporting it with roster updates – something they haven't done for the console versions.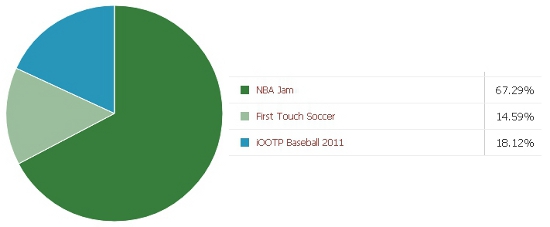 Most Disappointing Sports Game – NCAA Football 12
The closest category was a competition between two games that struggled in follow-ups to their highly-regarded iterations the previous year. Both NCAA Football 12 and NBA 2K12 released with a bevy of serious problems and community perception regarding both took a huge hit. NCAA edged out 2K12 however as the most disappointing game of 2011 with 44.5% to 42%. Both series will be looking for bounce-back years in 2012 and will have the opportunity to recover and regain their standing among the best in the genre.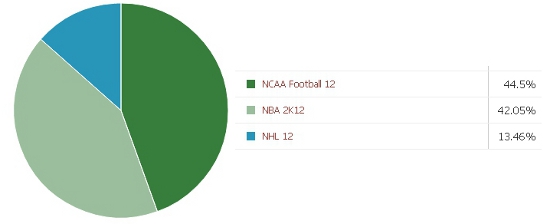 Best Gameplay – FIFA 12
It was a rematch of the same three games from 2010 in this category but with a new winner emerging. The addition of the "Impact Engine" physics to FIFA 12 was a bold move and though it had its problems it was ultimately a beneficial step forward. FIFA took 42% of the vote, with last year's runner-up The Show again in the same position, while last year's winner NBA 2K11 dropped from 56% of the vote to just 27% with 2K12.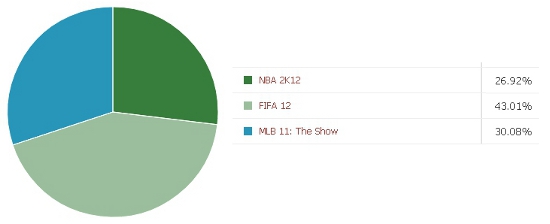 Best Presentation – NBA 2K12
With the special presentation for the NBA's Greatest matchups as well as new broadcast camera angles and improved commentary NBA 2K12 soared to a victory in this category. As was the case last year as well MLB: The Show will probably need new commentary to challenge a 2K title in overall presentation value.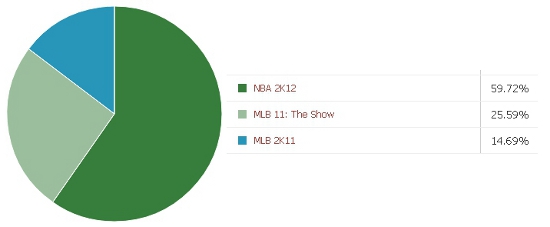 Best Online Play – Madden NFL 12
FIFA 12 was probably the favorite going in, given its continued strong online performance and number of features, but Madden NFL 12 comes out on top in what was undoubtedly its strongest year ever online. Online performance was excellent and probably the determining factor in Madden's favor considering it had its share of struggles online in the past. Online Communities in Madden was a valiant effort to improve the experience for players but Online Seasons in FIFA 12 ultimately did a better job of achieving that goal.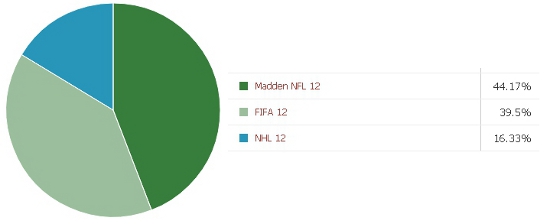 Best Franchise or Dynasty Mode – Madden NFL 12
This category was a bit of an upset as Madden NFL 12's Franchise mode knocked off the more refined reigning award holder (NCAA Football's Dynasty mode). The complete refresh of Madden's Franchise was certainly still on the consciousness of the voters – while NCAA may have suffered from some of the ill will towards the series in general and due in part to problems encountered with Online Dynasty and SuperSim.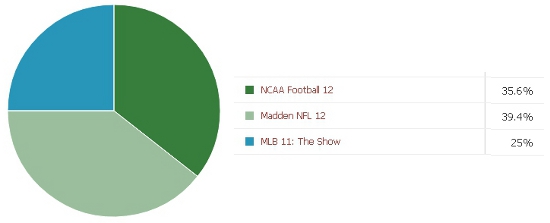 Best Career Mode – MLB 11: The Show (Road to the Show)
The Show has one of the longest-standing career modes and have steadily improved it over the years. Despite frustratingly long loading times Road to the Show wins for 2011 after having made a shift from a goal-based system to one that was performance-based. Road to the Masters in Tiger 12 and NHL 12's Be a Pro had good support as well but Road to the Show has become the gold-standard of career modes.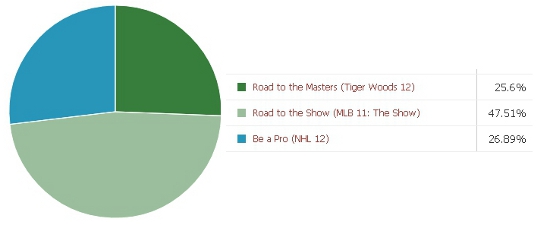 Best New Feature or Mode – NBA 2K12 (NBA's Greatest)
NBA's Greatest in NBA 2K12 proved to be the best new addition to a sports game this year. Implementing 15 match-ups from different points in history the games had their own unique elements of presentation that made each one a lesson in the league's past. Online Seasons in FIFA 12 put up a surprisingly strong challenge however as that feature was really successful in enhancing the online play experience. Fight Night Champion's story mode was mildly compelling but short and that may have been what kept it from a better showing here.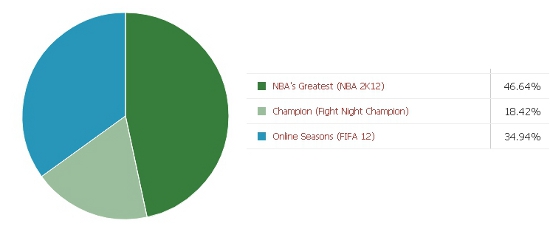 Recap
2010 had one game – NBA 2K11 – dominate a number of community-voted categories and become nearly the consensus sports game of the year. The results from 2011 however show how a number of games excelled in particular ways but very few could even claim to have pulled together all the elements of a complete product let alone an outstanding one. FIFA 12 was recognized by the community as having succeeded the most in a year where others faltered or began to emerge as potential contenders for 2012.