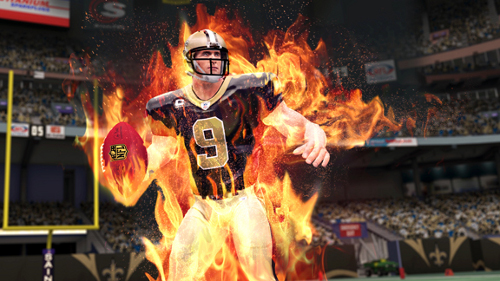 The reboot of NFL Blitz from EA Sports is out now on XBLA and PSN for $15. Blitz features single player "Gauntlet" mode, co-op/online co-op, online "Battles", "Elite League" mode (similar to Ultimate Team), commentary from Tim Kitzrow – and a full quarter of gameplay action can be seen here.
No late hits as mandated by the league and outdated rosters are the big drawbacks to consider as well as aspects such as no left-handed throwing QBs – yes Mike Vick and Tim Tebow are right-handed in Blitz. It was the same way in EA's last effort Madden NFL Arcade, further increasing the similarities between the two games which shouldn't come across as being so suspiciously alike. The level of content provided in Blitz however far outweighs that of Madden Arcade – though that game actually got the benefit of roster updates.
A trial version is available to play before committing to purchase the title on the 360 but that option is absent on the PS3. Leave any thoughts in the comments regarding NFL Blitz and look for official impressions later this week!