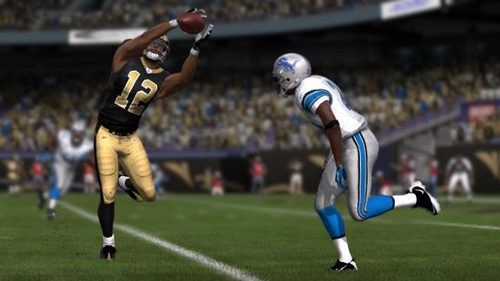 Wild Card Weekend is in the books with all four division-winning home teams advancing to the next round to take on the top seeds. The thriller of the four came in Denver where Tebow "magic" re-emerged and now the Broncos will travel to New England as even bigger underdogs.
Standout performers from the slate of games included J.J. Watt, Geno Atkins, Matt Stafford, Jason Pierre-Paul, John Abraham, Isaac Redman, and Demaryius Thomas. Calvin Johnson will likely join the 99 overall rated club after his monster game. Those who stood out for the wrong reasons were the likes of Ike Taylor, Chris Crocker, and Matt Ryan.
It also appears there may be a 100 overall rated player coming in this update or one soon. Donny Moore floated the idea by asking if anyone – citing Aaron Rodgers, Drew Brees, or Tom Brady – are deserving of the distinction. At one point Rodgers looked to be making a case for being 100 rated but it may now be Brees instead who would have the edge amongst the three.