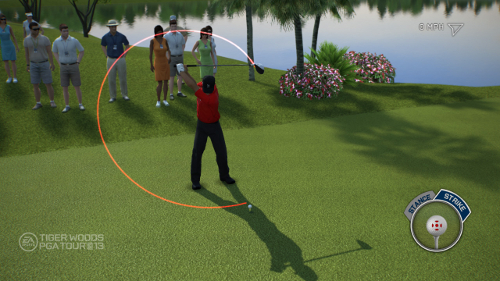 Back at E3 the statement was made that Kinect for Xbox 360 would be integrated in many future EA Sports titles. The first instance of that will come with Tiger Woods PGA Tour 13 and the company today released the full features list for the upcoming game which is set for release on March 27th. Tiger 13 will also include brand new swing controls and Online Country Clubs.
Check out the first official screenshots in the gallery or FB album and continue on to read up more on the features and watch the first two trailers. 
•Total Swing Control – Taking its most significant leap forward in swing mechanics in over a decade, Tiger Woods PGA TOUR 13 revolutionizes the virtual golf swing. Golfers will take full control over their swing with all-new tempo, swing plane and shot power controls along with an adjustable shot setup, allowing players to address the ball in a number of ways to create limitless shot types with just one club.
•22 Licensed Professional Golfers – Fans can take to the course with any one of 22 PGA TOUR golfers in Tiger Woods PGA TOUR 13, including Tiger Woods, 2011 US Open Champion Rory McIlroy, 2010 PGA TOUR Rookie of the Year Rickie Fowler and Tiger Woods PGA TOUR 13 US cover art finalist Bubba Watson. More details about the new golfers in Tiger Woods PGA TOUR 13 will be revealed during the week of January 16.
•Kinect for Xbox 360 Integration – Tiger Woods PGA TOUR 13 will be the first-ever Kinect for Xbox 360 sports simulation title, tracking full body movements to create the most advanced and authentic swing to date on the virtual golf course. Controller-free and voice-enabled controls provides for a unique, never-before-seen sports gaming experience. More details will be revealed about Kinect for Xbox 360 integration the week of January 24.
•PlayStation Move Integration – Improve your game with the true-to-life golf swing created for the PlayStation Move. Fans will once again be able to experience the authentic golf swing created by the PlayStation Move, allowing golfers to emulate their swing style as they drive the ball down the fairway or sink a 30-foot putt.
•Experience Tiger's Golf Legacy – Relive first-hand Tiger Woods' most memorable golf accomplishments as he rises from a child prodigy to golfing legend. More details will be revealed about the Tiger golf legacy feature the week of February 6.
•Online Country Clubs – In Tiger Woods PGA TOUR 13, gamers will be able to invite friends to join their own exclusive country club and team up to gain quicker access to downloadable golf courses or compete against other club members for the coveted Club Championship. More details will be revealed about Online Country Clubs the week of February 20.
•The Masters Collector's Edition Exclusives – The Collector's Edition provides fans with the ultimate Masters experience. Fans that purchase the Collector's Edition will receive all of the features in the standard edition game, as well as exclusive access to Augusta National Golf Club's Tournament practice facility, Augusta National's famous Par 3 Course, an authentic Green Jacket Presentation and a chance to explore the hallowed grounds like never before.