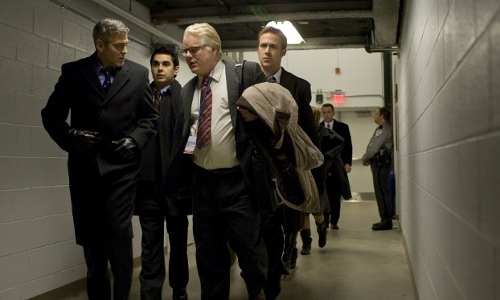 It's not an especially inspiring set of new releases this week – but The Ides of March stands out as easily the best of the bunch while a few classics also arrive on Blu-ray.
The Ides of March (Buy at Amazon: DVD or Blu-ray)
The Ides of March takes place during the frantic last days before a heavily contested Ohio presidential primary, when an up-and-coming campaign press secretary (Ryan Gosling) finds himself involved in a political scandal that threatens to upend his candidate's shot at the presidency.
Abduction (Buy at Amazon: DVD or Blu-ray)
For as long as he can remember, Nathan Harper (Taylor Lautner) has had the uneasy feeling that he's living someone else's life. When he stumbles upon an image of himself as a little boy on a missing persons website, all of Nathan's darkest fears come true: he realizes his parents are not his own and his life is a lie, carefully fabricated to hide something more mysterious and dangerous than he could have ever imagined. Just as he begins to piece together his true identity, Nathan is targeted by a team of trained killers, forcing him on the run with the only person he can trust, his neighbor, Karen (Lily Collins). Every second counts as Nathan and Karen race to evade an army of assassins and federal operatives. But as his opponents close in, Nathan realizes that the only way he'll survive and solve the mystery of his elusive biological father is to stop running and take matters into his own hands.
Courageous (Buy at Amazon: DVD or Blu-ray)
Four men, one calling: To serve and protect. As law enforcement officers, Adam Mitchell, Nathan Hayes, David Thomson, and Shane Fuller are confident and focused. Yet at the end of the day, they face a challenge that none of them are truly prepared to tackle: fatherhood. When tragedy hits home, these men are left wrestling with their hopes, their fears, their faith, and their fathering. Can a newfound urgency help these dads draw closer to God … and to their children? Protecting the streets is second nature to these men. Raising their children in a God-honoring way? That's courageous.
Redline (Buy at Amazon: DVD or Blu-ray)
Eddie Griffin and Nathan Phillips put the pedal to the metal in stunt coordinator-turned-director Andy Cheng's supercharged auto thriller. As a serious collection of speed freaks gather to hit the streets in hopes of winning 24 million dollars, every rule is broken and the law simply doesn't have enough horsepower to ensure that justice is served. With the speedometer maxed out and the past becoming nothing more than a fading image in the rearview mirror, these drivers will do whatever it takes to win the prize that promises to change their life forever.
Merlin: Season 3 (Buy DVD at Amazon)
Merlin is back with even more magic, adventure and romance as the young wizard struggles to protect Prince Arthur in the perilous world of Camelot. While battling deadly assassins, mystical monsters and the most powerful sorcerers Camelot has ever seen, Merlin must work harder than ever to conceal his unique abilities while King Uther redoubles his war against magic. Featuring exciting new villains, white-knuckle stunt sequences, and spectacular CGI monsters, Merlin season three is more thrilling than ever.
Sliders: Season 5 (Buy DVD at Amazon)
For four thrilling seasons, they've explored alternate realities beyond anyone's imaginations. They've seen double versions of their hometown, their families, and themselves. But nothing will prepare the Sliders for what lies ahead in all 18 episodes from the fifth and final season of this phenomenally popular sci-fi series. Starring Cleavant Derricks, Kari Wührer, Robert Floyd and Tembi Locke, it's the last chance for the Sliders to answer the question that has haunted them from the beginning: will they ever reach home?
The Tuskegee Airmen (Buy Blu-ray at Amazon)
Based on a true story, The Tuskegee Airmen chronicles the experiences of the first African-American fighter pilots in the U.S. Army Air Corps. Using Hannibal Lee (Laurence Fishburne) as a focal point, the movie follows the airmen from their initial training at Tuskegee, Alabama, through their combat assignments during World War II.
Dead Poets Society (Buy Blu-ray at Amazon)
English professor John Keating inspires his students to a love of poetry and to seize the day.
Good Morning, Vietnam: 25th Anniversary Edition (Buy Blu-ray at Amazon)
An unorthodox and irreverent DJ begins to shake up things when he is assigned to the US Armed Services Radio station in Vietnam.
License to Drive (Buy Blu-ray at Amazon)
A teen decides to go for a night on the town with his friends despite flunking his driver's test.