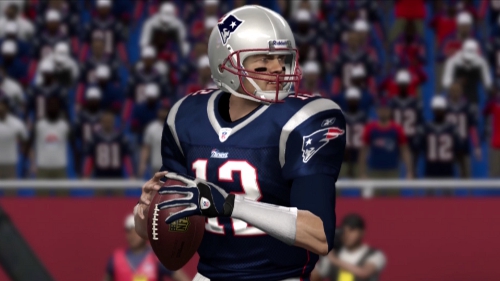 Last week ratings handler Donny Moore raised the idea of giving out the elusive 100 overall rating in Madden NFL 12 and the three primary MVP candidates were cited as being on the cusp of such an honor. Following the divisional round of the playoffs naturally perceptions of Aaron Rodgers, Drew Brees, and Tom Brady will have somewhat shifted. Only Brady moved on to the Conference Championship and did so in record-breaking fashion.
Aaron Rodgers vs Giants (Loss)
26-46-264, 2TD-1INT, Total QBR 66.9
Just didn't look as sharp as he did throughout the season, and had a lost fumble as well on what may have been the biggest play of the game, but his receivers also dropped 8 passes. Even if he wins the MVP after a 15-1 season it ends with huge disappointment.
Drew Brees vs 49ers (Loss)
40-63-462, 4TD-2INT, Total QBR 62.0
The two picks hurt but it was the rest of the team that ultimately let Brees down – that included three lost fumbles and a defense that gave the game away by allowing dramatic drives led by Alex Smith. Brees at least had the team in position to win twice late in the game.
Tom Brady vs Broncos (Win)
26-34-363, 6TD-1INT, Total QBR 95.1
Set an NFL Playoff record with 5 TD passes in a single half. He even got in a 48 yard punt that was downed at the 10 yard line! Was able to roll over what was arguably the easiest opponent in the round which might present some reason for hesitation.
Who do you feel, if any, deserve the 100 overall rating by the time the final roster update comes around? Vote in the poll below and feel free to leave any thoughts in the comments!