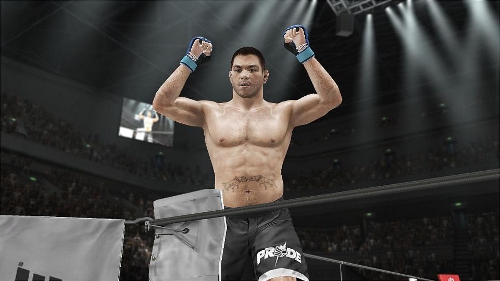 THQ has released a feature layout for Career mode in UFC Undisputed 3 as well as an accompanying trailer. Improvements include more emphasis on the fights rather than stat management, better base stats at character creation, multiple organizations, new training drills, the opportunity to switch weight classes, and more. Continue on for the trailer and the complete details on what new to expect when running through a career! 
LESS MANAGEMENT AND MORE FIGHTING
This year's emphasis on Career Mode is the fights and getting players back into the action more quickly. Less management of stats are needed with a new automated point allocation system and the removal of Stat Decay. Also, with less time for training in between fights and more ways to train, the variety of the player's training routine becomes imparitive if he wants to be an all-around fighter.
FIGHTER BACKGROUNDS AND IMPROVED INITIAL STATS
When starting a career, players will be asked to choose their fighter's background, which provides different starting stats and move sets. Additionally, fighters start out with much higher stats than previous iterations, allowing them to build well-rounded and complete fighters like never before.
TRAINING DRILLS
We've added 14 training/sparring games to UFC Undisputed 3, which allow players to practice isolated sections of gameplay and get better at playing the game.
REAL WORLD CAMPS
Players will travel to and train at six different real world camps, including Greg Jackson's, American Top Team and Wolfslair MMA Academy. They will also have the opportunity to join and represent a real world camp during their career, at which point the camp's trainer will become the player's trainer and corner him during his fights."
MULTIPLE ORGANIZATIONS AND CHAMPIONSHIPS
This year, players will compete in three different organzations: WFA, UFC and PRIDE Tournaments. Players start in the WFA and must capture and defend the WFA title before moving to the UFC. From there, they can compete in and win PRIDE tournament championships, as well as the coveted UFC Championship."
MORE WEIGHT CLASS SWITCHING
Players have more opportunities to switch weight classes this year. They will compete in single one-off fights in a new division, switch after cleaning out a division, or, if they're struggle in one division, switch divisions to try and turn things around.
CAREER LIVE MOVIES
UFC Undisputed 3 captures the in-game cutscenes in career mode with real-life fight footage, backstage footage and exclusive interviews with some of today's top UFC fighters. The videos players will encounter during their careers mirror what real world fighters go through during their careers. For example, when a player has his first professional fight, he will hear fighters talk about what their first professional fight was like. Get a title shot, and the player will hear what was going through the minds of several fighters as they went into their title fights. With several variants of these types of videos, players will be able to unlock additional videos on multiple career play throughs.