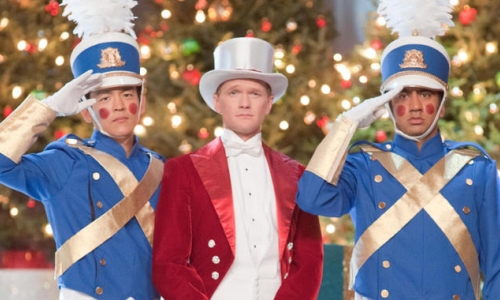 The sensation that is the Twilight series hits Blu-ray and DVD this week with the first part of the final chapter. Also arriving is the latest Harold and Kumar (in 3D if you have it) and the period-conspiracy film Anonymous.
The Twilight Saga: Breaking Dawn – Part I (Buy at Amazon: DVD or Blu-ray)
In The Twilight Saga: Breaking Dawn – Part 1, Bella (Kristen Stewart) and Edward (Robert Pattinson), plus those they love, must deal with the chain of consequences brought on by a marriage, honeymoon, and the tumultuous birth of a child…which brings an unforeseen and shocking development for Jacob Black (Taylor Lautner).
A Very Harold and Kumar Christmas (Buy at Amazon: DVD or Blu-ray/DVD Combo)
Following years of growing apart, Harold Lee (Cho) and Kumar Patel (Penn) have replaced each other with new friends and are preparing for their respective Yuletide celebrations. But when a mysterious package mistakenly arrives at Kumar's door on Christmas Eve, his attempt to redirect it to Harold's house ends with the "high grade" contents-and Harold's father-in-law's prize Christmas tree-going up in smoke. With his in-laws out of the house for the day, Harold decides to cover his tracks, rather than come clean. Reluctantly embarking on another ill-advised journey with Kumar through New York City, their search for the perfect replacement tree takes them through party heaven-and almost blows Christmas Eve sky high.
Anonymous (Buy at Amazon: DVD or Blu-ray)
Set in the political snake-pit of Elizabethan England, Anonymous speculates on an issue that has for centuries intrigued academics and brilliant minds such as Mark Twain, Charles Dickens, and Sigmund Freud, namely: who actually created the body of work credited to William Shakespeare? Experts have debated, books have been written, and scholars have devoted their lives to protecting or debunking theories surrounding the authorship of the most renowned works in English literature. Anonymous poses one possible answer, focusing on a time when scandalous political intrigue, illicit romances in the Royal Court, and the schemes of greedy nobles lusting for the power of the throne were brought to light in the most unlikely of places: the London stage.
The Sunset Limited (Buy at Amazon: DVD or Blu-ray)
A God-fearing ex-con (Samuel L. Jackson) saves a despondent college professor (Tommy Lee Jones) from throwing himself in front of a speeding subway train, and struggles to comprehend the suicidal man's unwavering despair during a series of intense philosophical debates. Adapted from the play by Cormac McCarthy (All the Pretty Horses, The Road).
Project Nim (Buy at Amazon: DVD)
From the Oscar-winning team behind MAN ON WIRE comes the story of Nim, the chimpanzee who became the focus of a landmark 1970s experiment to show that an ape could learn to communicate with language if raised and nurtured like a human child. But as Nim's natural instincts take over and the humans trusted with his well-being fail to protect him, PROJECT NIM uncovers the unflinching and extraordinary journey of one animal thrust into human society.
Geek Charming (Buy at Amazon: DVD)
Dylan Schoenfield is the pink princess of the upscale Los Angeles Woodlands Academy. She has the coolest boyfriend, the most popular friends, and a brand-new it bag that everyone covets. But when she accidentally tosses her Serge Sanchez bag into a fountain, this princess comes face-to-face with her own personal frog, self-professed film geek Josh Rosen. In return for rescuing Dylan's bag, Josh convinces Dylan to let him film her for his documentary on high school popularity. Reluctantly, Dylan lets F-list Josh into her A-list world, and is shocked to realize that sometimes nerds can be pretty cool. But when Dylan's so-called prince charming of a boyfriend dumps her flat, her life and her social status comes to a crashing halt.
Cyberbully (Buy at Amazon: DVD)
Teen girl Taylor Hillridge gets a a laptop for her birthday and signs up on a social networking site. She starts to feel alone as her friends ostracize her and she falls victim to cyberbullying.
Downtown Abbey: Season 2 (Buy at Amazon: DVD or Blu-ray)
Season 2 of the Emmy Award-winning Downton Abbey returns as The Great War rages across Europe, and not even the serene Yorkshire countryside is free from its effects. The men and women of Downton are doing their part both on the front lines and the home front, but the intensity of war only serves to inflame the more familiar passions love, loss, blackmail, and betrayal.