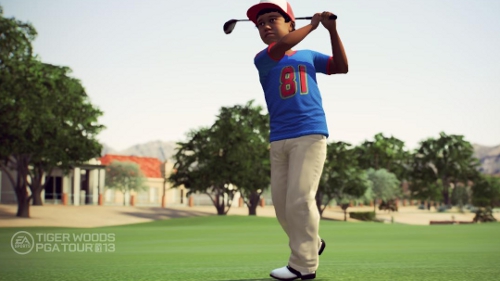 EA Sports today announced details on the "Legacy Challenge" mode in Tiger Woods PGA Tour 13. The mode features the opportunity to play through Tiger Woods' career from childhood to legend status to a future attempt at breaking Jack Nicklaus' record of 18 majors. Continue on to check out a video preview and all the features for the "Legacy Challenge"! 
Tiger Legacy Challenge lets you relive Tiger's most memorable golf accomplishments as he rises from a child prodigy to a golfing legend. Revisit each era of Tiger's career, from his Toddler Years practicing in his backyard, to his first television appearance on The Mike Douglas Show, thru his epic victories at the Masters. Play through and complete each era to unlock bonus in game content.
•Toddler Years – The first era includes events from Tiger's childhood in the late 70's, which introduces players to the new swing mechanics found in Tiger Woods PGA TOUR 13. During these events, you will play as Tiger between the ages of 2-6.
•Early Years – This era takes place between 1983 and 1986 between the ages of 7-10. You'll participate in some of Tiger's first golf tournaments including the Junior World Championship.
•Junior Years – Takes place between 1988 and 1991 at the ages of 12-15 and showcases Tiger winning each age group of the Junior World Golf Championships. These events incorporate various audio distractions while playing, which Tiger's father used in real life to help him train and hone his skills.
•Amateur Years – This era focuses on Tiger at the ages of 18-20 and includes accomplishments during his Amateur golf career such as the U.S. Amateur Championships, his first trip to the Masters Tournament, and College Invitational.
•Rookie Years – Between the ages 21 and 22,this era encompasses Tiger's first two years on the PGA TOUR, as well as his first major win at the Masters, his first President's Cup, signing with EA SPORTS, and hitting a hole in one at TPC Scottsdale on the famous hole 16.
•Tiger Slam – Arguably one of Tiger's most memorable accomplishments to date, this era focuses on his career between 2000 and 2001 at the ages of 24 and 25, when he won four majors in a row. It also includes a challenge to match Tiger's snaking putt at the 2001 Players Championship on the 17th island green at TPC Sawgrass.
•Pro Years – The Professional Years include accomplishments between 2002 and 2008 such as various major wins, famous shots (2005 chip-in at Masters), and winning the FedEx Cup.
•Present Day – This era includes current events such as the 2010 Ryder Cup, 2011 Presidents Cup, and the beginning of fictional events that lead up to the ultimate goal of winning 19 majors.
•Future – This section includes major events that are in the future such as the 2014 U.S. Open at Valhalla and the 2015 British Open at St. Andrews.
•Record Books – The last era will end with Tiger chasing his 19th major on his way to breaking Jack Nicklaus' record.