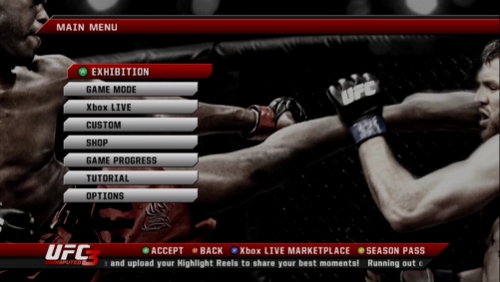 With UFC Undisputed 3 in hand the first thing to check on as always was loading times when playing from the disc up against those when installed to the Xbox 360 hard drive. The loading times in general have shown to be quite reasonable on the disc, with the extra presentation making for lengthier entries into UFC fights (Tale of the Tape can't be skipped) vs Pride, while the install does a decent job of improving on them. 
Install time- 11:10
Install size- 6.7 GB
Loading Times
Boot to main menu- 49 seconds disc vs 39 seconds HDD (10 seconds)
Load into UFC fight (Mandalay Bay)- 66 seconds disc vs 50 seconds HDD (16 seconds)
Load into Pride fight– 45 seconds disc vs 32 seconds HDD (13 seconds)
Load into an Ultimate Fight- 40 seconds disc vs 33 seconds HDD (7 seconds)
Load out of fight to menu- 4 seconds disc vs 4 seconds HDD (No change)
Load into Career mode – 13 seconds disc vs 10 seconds HDD (3 seconds)

Those are significant savings particularly if loading into several fights along the way which in the past has contributed to making Career mode a drag. Installing to the hard drive is recommended for the reduced noise and wear and tear put on the system in addition to any improvements seen in loading times.