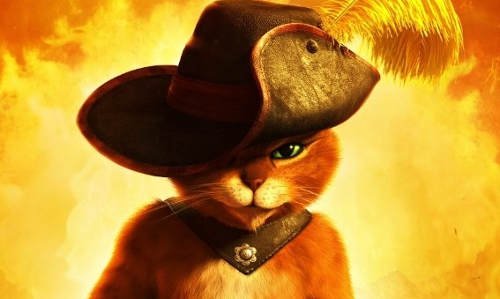 After a weak set of releases last week there are number of good options this time around on DVD and Blu-ray. Puss in Boots got great reviews and excellent response from audiences, J. Edgar was thought at one time to be an Oscar contender but didn't quite live up to that stature, and Tower Heist got some really respectable reviews for a comedy – there are also the latest seasons of two Showtime comedy series.
Puss in Boots (Buy at Amazon: DVD or Blu-ray/DVD combo)
Long before he even met Shrek, the notorious fighter, lover and outlaw Puss in Boots becomes a hero when he sets off on an adventure with the tough and street smart Kitty Softpaws and the mastermind Humpty Dumpty to save his town. This is the true story of The Cat, The Myth, The Legend… The Boots.
J. Edgar (Buy at Amazon: DVD or Blu-ray/DVD combo)
J. Edgar explores the public and private life of one of the most powerful, controversial and enigmatic figures of the 20th century. As the face of law enforcement in America for almost fifty years, J. Edgar Hoover (Leonardo DiCaprio) was feared and admired, reviled and revered. But behind closed doors, he held secrets that would have destroyed his image, his career and his life
Tower Heist (Buy at Amazon: DVD or Blu-ray)
Ben Stiller and Eddie Murphy lead an all-star cast in Tower Heist, a comedy caper about working stiffs who seek revenge on the Wall Street swindler who stiffed them. After the workers at a luxury Central Park condominium discover the penthouse billionaire has stolen their retirement, they plot the ultimate revenge: a heist to reclaim what he took from them.
London Boulevard (Buy at Amazon: DVD or Blu-ray)
The directorial debut of William Monahan, the screenwriter of The Departed, London Boulevard follows an ex-con trying to make a fresh start in a relationship with a reclusive actress. A sexy, stylish gangster thriller bristling with wit and brutal intrigue, London Boulevard stars Colin Farrell and Keira Knightley as star-crossed lovers who run afoul of one of London's most vicious crime bosses.
The Way (Buy at Amazon: DVD or Blu-ray)
A father heads overseas to recover the body of his estranged son who died while traveling the "El camino de Santiago," and decides to take the pilgrimage himself.
Weeds: Season 7 (Buy at Amazon: DVD or Blu-ray)
New York, New High! After serving 3 years in the joint, the onetime suburban soccer mom is making a fresh start in New York City and going back to doing what she does best — selling pot. But when some old friends return, they could send everything up in flames.
Nurse Jackie: Season 3 (Buy at Amazon: DVD or Blu-ray)
Still high and mighty! The Showtime hit series "Nurse Jackie" ended season two with the ugly truth closing in on super-nurse Jackie Peyton. Jackie's best friend and husband put the pieces together about her pill-popping ways and confronted her about her addiction. But if the people in her life think one little intervention is going to stop her, they don't know Jackie. The great white liar returns for another hilarious season of 12 episodes on 3 discs.