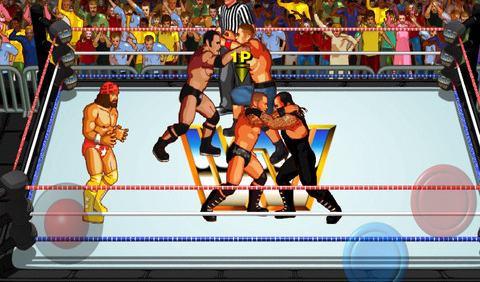 The remake of the 1991 arcade game WWE WrestleFest is set to arrive for iOS devices tomorrow (price unknown still) and now there is a gameplay trailer and full list of features to check out. The roster includes a mix of current stars and legends, a variety of match types and venues, "Road to Wrestlemania" mode, and online play. Continue on to check out all the details as well as an extended gameplay video!
The WWE arcade game fans have cherished for decades is back and better than ever! WWE WrestleFest delivers classic WWE action in 2-D. The faithfully recreated experience is complete with current day WWE Superstars like John Cena and Randy Orton, as well as iconic WWE Legends like Jake "The Snake" Roberts and "Macho Man" Randy Savage, all poised to compete in a variety of popular match types within several well-known arenas. In WWE WrestleFest, players may also challenge themselves to win a series of championships on the Road to WrestleMania and engage in multiplayer action.
LEGENDARY ROSTER
Compete with a notable roster of current WWE Superstars and popular WWE Legends, including John Cena, The Rock, Randy Orton, "Stone Cold" Steve Austin, Undertaker, Jake "The Snake" Roberts, Rey Mysterio and "Macho Man" Randy Savage
RENOWNED ARENAS
Experience arcade-style WWE action in several well-known arenas, including Raw, SmackDown, WrestleMania, Royal Rumble and Saturday Night's Main Event
EXTENSIVE DOWNLOADABLE CONTENT
Update the WrestleFest experience every 30 days with new content, including WWE Superstars, CM Punk, Triple H, and Sheamus, WWE Legends Shawn Michaels and Big Boss Man, as well as the WCW Nitro arena
CLASSIC MATCH TYPES
Take on opponents in a variety of popular match types, including Royal Rumble, Steel Cage, Gauntlet, Tag Team and more
ROAD TO WRESTLEMANIA
Select a WWE Superstar or WWE Legend and compete in a series of challenges to win five different WWE championships
MULTIPLAYER MADNESS
Enjoy the WrestleFest experience with others by issuing challenges and competing against others online.