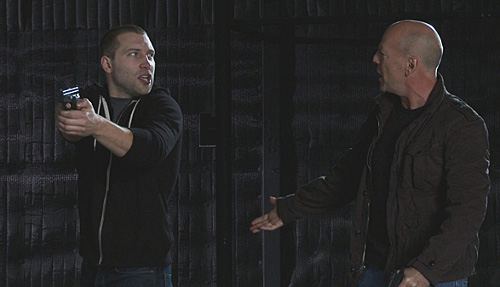 Jai Courtney has been cast in the upcoming fifth entry in the Die Hard series as John (Jack) McClane Jr. A few months back it was reported that names such as Aaron Paul, James Badge Dale, and Liam Hemsworth were the front-runners for the role but Courtney – probably best known as Varro from the first season of Spartacus – emerged and won out. The image above is actually from his screen test for the role with Bruce Willis.
Since the first Die Hard in 1988, John McClane has found himself in the wrong place at the wrong time, with the skills and attitude to always be the last man standing, making him enemy #1 for terrorists the world over. Now, McClane faces his greatest challenge ever, this time on an international stage, when his estranged son Jack is caught up in the daring prison escape of a rogue Russian leader, and father and son McClane must work together to keep each other alive and keep the world safe for democracy.
Directed by John Moore (Max Payne, Behind Enemy Lines) a release date of February 14th 2013 is currently locked in for A Good Day to Die Hard with filming set to begin in April.