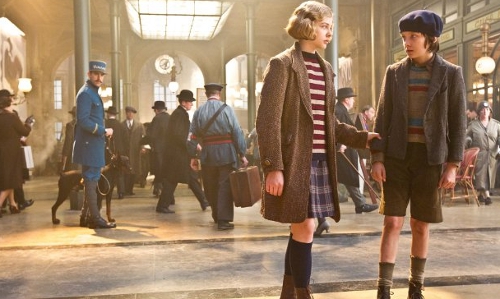 The most nominated film from this year's Oscars, Hugo, arrives on DVD and Blu-ray this week – otherwise the cupboards are pretty bare in terms of new releases.
•Hugo (Buy at Amazon: DVD or Blu-ray/DVD Combo)
Throughout his extraordinary career, Academy Award-wining director Martin Scorsese has brought his unique vision and dazzling gifts to life in a series of unforgettable films. This holiday season the legendary storyteller invites you to join him on a thrilling journey to a magical world with his first-ever 3-D film, based on Brian Selznick's award-winning, imaginative New York Times best-seller, "The Invention of Hugo Cabret." Hugo is the astonishing adventure of a wily and resourceful boy whose quest to unlock a secret left to him by his father will transform Hugo and all those around him, and reveal a safe and loving place he can call home.
•I Melt With You (Buy at Amazon: DVD or Blu-ray)
Richard (Thomas Jane), Ron (Jeremy Piven), Jonathan (Rob Lowe) and Tim (Christian McKay) are old college buddies who gather for a week each year in Big Sur to celebrate Tim's birthday and catch up with each other's lives. On the surface, they look like typical men in their forties, with careers, families and responsibilities. But as with most people, there is more to them than meets the eye. As the week progresses, they go down the rabbit hole of excess: mountains of drugs are consumed to a blaring rock 'n' roll soundtrack, parties with much younger women spin out of control. Exhausted and run ragged, they bare their souls and their reunion takes a much darker turn. When a promise from their past is brought to light, none of their lives will ever be the same.
•Johnny English Reborn (Buy at Amazon: DVD or Blu-ray/DVD Combo)
In the years since MI7's top spy vanished off the grid, Johnny English (Rowan Atkinson) has been honing his unique skills in a remote region of Asia. But when his agency superiors learn of an attempt against the Chinese premier's life, they must hunt down the highly unorthodox agent. Now that the world needs him once again, Johnny English is back in action. With one shot at redemption, he must employ the latest in hi-tech gadgets to unravel a web of conspiracy that runs throughout the KGB, CIA and even MI-7. With mere days until a heads of state conference, one man must use every trick in his playbook to protect us all. For Johnny English, disaster may be an option, but failure never is.
•Beneath the Darkness (Buy at Amazon: DVD or Blu-ray)
In Beneath the Darkness, Ely Vaughn (Quaid) is a pillar of the community in tiny Smithville, Texas. The town's mortician, Ely has been revered since his days as the high school's star quarterback. But since the tragic death of his wife two years earlier, Ely has withdrawn from his neighbors, while local teens spread stories of supernatural goings on at Ely's mansion-which is also the funeral home. When high school friends Travis (Oller), Abby (Teegarden), Brian (Lunsford) and Danny (Werkheiser) decide to check out the rumors, they are shocked to see the supposedly grieving widower dancing with a mysterious woman behind the curtains of his bedroom window. Their curiosity aroused, the four teens wait for Ely to leave the house before breaking in to investigate. But instead of finding clues to the woman's identity, they stumble on a grotesque, long-hidden secret. The sadistic mortician next door will now stop at nothing to literally bury his past.
•Justice League: Doom (Buy at Amazon: DVD or Blu-ray/DVD Combo)
An adaptation of Mark Waid's "Tower of Babel" story from the JLA comic. Ra's al Ghul steals confidential files Batman has compiled on the members of the Justice League, and learns all their weaknesses.