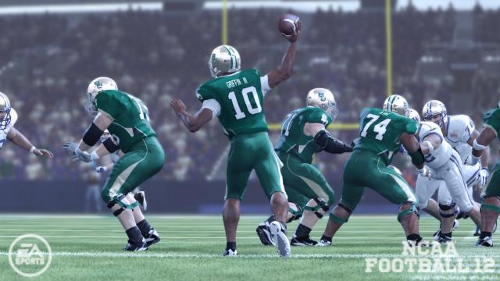 ESPN Central Texas is reporting, as first noted by The Gaming Tailgate,  that Robert Griffin III will be on the cover of NCAA Football 13. Given that some sort of focus with NCAA 13 seems to be Heisman winners of the past it then makes sense that the latest Heisman would play a role in the marketing of the upcoming title.
It's unclear though exactly where RG3 would fall as a potential cover athlete and given that the news seems based on involvement with a cover shoot that doesn't eliminate other possible players from being involved. He could be one of several in the mix rather than the single chosen one. NCAA 10 had a different player on each version while the decision was left up to the fans to vote for the eventual winner from four candidates with NCAA 12. However if the theme of NCAA 13 is Heisman based it's certainly possible he has been singled out by EA Sports for the honor.
(Update) Beginning on March 12th fans will be able to vote for what former Heisman winner will share the cover with RG3 on Facebook. Barry Sanders, Desmond Howard, Marcus Allen, Doug Flutie, Eddie George, Herschel Walker, Charlie Ward, and Andre Ware will be the names to choose from.