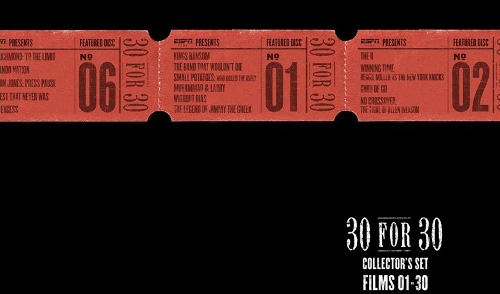 The semi-regular site giveaways continue with this week the complete ESPN 30 on 30 Collector's Set on Blu-ray going to the winner!
There are several ways to qualify and each one counts for an entry – so the more you complete the more chances to win. The giveaway is open now and will run through Monday afternoon when the winner will be randomly selected and contacted for shipping details. Good luck! 
ESPN Films: 30 for 30 Collector's Set includes the complete collection of films from the ESPN award-winning 30 for 30 series. Featuring a remarkable group of directors from Academy Award-winners Barry Levinson and Barbara Kopple to Academy Award-nominees John Singleton, Steve James, Ron Shelton, as well as two-time MVP Steve Nash and legendary rapper Ice Cube, each filmmaker provides their unique perspective to some of the most extraordinary sports stories in the last 30 years. Time Magazine applauds this thrilling collection and The Los Angeles Times calls them some of the best films of 2010. Several films were official selections by the Cannes, Sundance, Toronto and Tribeca Film Festivals. The 6-disc set includes all 30 films from the series: Kings Ransom, The Band That Wouldnt Die, Small Potatoes: Who Killed The USFL?, Muhammad & Larry, Without Bias, The Legend of Jimmy The Greek, The U, Winning Time: Reggie Miller vs. The New York Knicks, Guru of Go, No Crossover: The Trial of Allen Iverson, Silly Little Game, Run Ricky Run, The 16th Man, Straight Outta L.A., June 17th, 1994, The Two Escobars, The Birth of Big Air, Jordan Rides The Bus, Little Big Men, One Night in Vegas, Unmatched, The House of Steinbrenner, Into The Wind, Four Days in October, Once Brothers, Tim Richmond: To The Limit, Fernando Nation, Marion Jones: Press Pause, The Best That Never Was and Pony Excess. Includes over 5 hours of bonus features.
a Rafflecopter giveaway