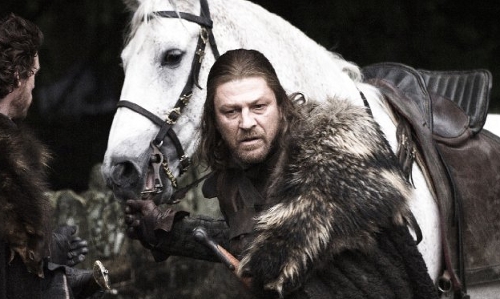 This week brings releases of the heralded HBO series Game of Thrones (and on sale for just $35 Blu-ray and $30 DVD) along with the period action film Immortals and the remake of Footloose – oh and the latest dreadful Adam Sandler film.
•Game of Thrones: Season 1 (Buy at Amazon: DVD or Blu-ray)
Summers span decades. Winters can last a lifetime. And the struggle for the Iron Throne has begun. It will stretch from the south, where heat breeds plots, lusts and intrigues; to the vast and savage eastern lands; and all the way to the frozen north, where an 800-foot wall of ice protects the kingdom from the dark forces that lie beyond. Kings and queens, knights and renegades, liars, lords, and honest men…all will play the Game of Thrones.
•Immortals (Buy at Amazon: DVD or Blu-ray)
The brutal and bloodthirsty King Hyperion (Mickey Rourke) and his murderous Heraklion army are rampaging across Greece in search of the long lost Bow of Epirus. With the invincible Bow, the king will be able to overthrow the Gods of Olympus and become the undisputed master of his world. With ruthless efficiency, Hyperion and his legions destroy everything in their wake, and it seems nothing will stop the evil king's mission. As village after village is obliterated, a stonemason named Theseus (Henry Cavill) vows to avenge the death of his mother in one of Hyperion's raids. When Theseus meets the Sybelline Oracle, Phaedra (Freida Pinto), her disturbing visions of the young man's future convince her that he is the key to stopping the destruction. With her help, Theseus assembles a small band of followers and embraces his destiny in a final desperate battle for the future of humanity.
•Footloose (Buy at Amazon: DVD or Blu-ray/DVD Combo)
Writer/Director Craig Brewer (Hustle & Flow) delivers a new take of the beloved 1984 classic film. Ren MacCormack (Kenny Wormald) is transplanted from Boston to the small southern town of Bomont where he experiences a heavy dose of culture shock. A few years prior, the community was rocked by a tragic accident that killed five teenagers after a night out and Bomont's local councilmen and the beloved Reverend Shaw Moore (Dennis Quaid) responded by implementing ordinances that prohibit loud music and dancing. Not one to bow to the status quo, Ren challenges the ban, revitalizing the town and falling in love with the minister's troubled daughter Ariel (Julianne Hough) in the process.
•Jack and Jill (Buy at Amazon: DVD or Blu-ray/DVD Combo)
Jack and Jill is a comedy focusing on Jack Sadelstein (Adam Sandler), a successful advertising executive in Los Angeles with a beautiful wife and kids, who dreads one event each year: the Thanksgiving visit of his identical twin sister Jill (also Adam Sandler). Jill's neediness and passive-aggressiveness is maddening to Jack, turning his normally tranquil life upside down. Katie Holmes plays Erin, Jack's wife.
•The Skin I Live In (Buy at Amazon: Blu-ray/DVD Combo)
Ever since his wife was burned in a car crash, Dr. Robert Ledgard, an eminent plastic surgeon, has been interested in creating a new skin with which he could have saved her. After twelve years, he manages to cultivate a skin that is a real shield against every assault. In addition to years of study and experimentation, Robert needed a further three things: no scruples, an accomplice and a human guinea pig. Scruples were never a problem. Marilia, the woman who looked after him from the day he was born, is his most faithful accomplice. And as for the human guinea pig…
•The Lion King II: Simba's Pride (Buy at Amazon: DVD or Blu-ray/DVD Combo)
Another made-for-video sequel to a Disney masterpiece. As with the Beauty and the Beast and Pocahontas sequels, most of the recognizable vocal talents return, creating a worthwhile successor to the highest-grossing animated film ever. We pick up the story as the lion king, Simba (voiced by Matthew Broderick), and Nala (Moira Kelly) have a new baby cub, a girl named Kiara (Neve Campbell). Like her father before, she seeks adventure and ends up outside the Pridelands, where lions loyal to the evil Scar (who died in the original) have lived with revenge in their hearts. The leader, Zira (a spunky turn from Suzanne Pleshette), schemes to use her son Kovu (Jason Marsden) to destroy Simba. As luck with have it, Kiara has bumped into Kovu and fallen in love.
•The Lion King 1 1/2 (Buy at Amazon: DVD or Blu-ray/DVD Combo)
The Lion King 1 1/2 is an ingenious sequel that retells the original film's story from the perspective of best pals Timon the meerkat (voiced by Nathan Lane) and Pumbaa the warthog (Ernie Sabella). Anyone who has wondered how this odd couple met will find out here, beginning with Timon's flight from home following disgrace and his chance encounter with the sweet but lonely Pumbaa. With the arrival of young Simba (Shaun Flemming), The Lion King's familiar tale is reborn via a fresh angle, fleshed out by returning characters Rafiki the wise monkey (Robert Guillaume), Shenzi (Whoopi Goldberg), and Simba's love interest, Nala (Moira Kelly).
•Parenthood (Buy at Amazon: Blu-ray/DVD Combo)
This feel-good ensemble comedy tracks a quartet of suburban siblings and their families over the course of a single summer. Hardworking Gil Buckman (Steve Martin) and his stay-at-home wife, Karen (Mary Steeenburgen), have just a few months to help their oldest son, Kevin (Jasen Fisher), overcome his high-strung behavior problems before he'll be relegated to special-education classes. Gil's difficult relationship with his own father, Frank (Jason Robards), has led him to become a would-be super-dad for his three kids, so he takes his son's difficulties more than a little personally. Gil's sister, Helen (Dianne Wiest), is trying to raise a moody, adolescent son (Leaf Phoenix) and an independent-minded daughter (Martha Plimpton) with no help from her well-off ex-husband, who's more interested in his new wife and family. Gil and Helen's sister, Susan (Harley Jane Kozak), meanwhile, must participate in the too-scripted Big Life Plans of her anal-retentive husband, Nathan (Rick Moranis), whose overachiever zeal infects even their toddler daughter. When long-lost brother Larry (Tom Hulce) show up with yet another get-rich-quick scheme, he brings with him a surprise addition to the family.
•Monty Python and the Holy Grail (Buy at Amazon: Blu-ray)
From its opening multi-language titles (that sure looks like Swedish) to the closing arrest of the entire Dark Ages cast by modern-day bobbies, Monty Python and the Holy Grail helped to define "irreverence" and became an instant cult classic. This time the Pythonites savage the legend of King Arthur, juxtaposing some excellently selected exterior locations with an unending stream of anachronistic one-liners, non sequiturs, and slapstick set pieces.