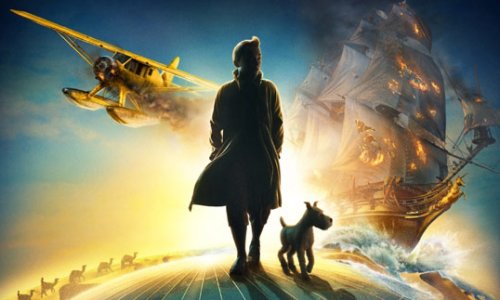 A solid variety of options come with this week's DVD/Blu-ray releases. Tintin and The Descendants are the most high-profile and well-reviewed of the bunch to choose from.
•The Adventures of Tintin (Buy at Amazon: DVD or Blu-ray/DVD Combo)
Paramount Pictures and Columbia Pictures Present a 3D Motion Capture Film The Adventures of Tintin directed by Steven Spielberg from a screenplay by Steven Moffat and Edgar Wright & Joe Cornish. Starring Jamie Bell as Tintin, the intrepid young reporter whose relentless pursuit of a good story thrusts him into a world of high adventure, and Daniel Craig as the nefarious Red Rackham.
•The Descendants (Buy at Amazon: DVD or Blu-ray/DVD Combo)
From Alexander Payne, the creator of the Oscar-winning Sideways, set in Hawaii, The Descendants is a sometimes humorous, sometimes tragic journey for Matt King (George Clooney) an indifferent husband and father of two girls, who is forced to re-examine his past and embrace his future when his wife suffers a boating accident off of Waikiki. The event leads to a rapprochement with his young daughters while Matt wrestles with a decision to sell the family's land handed down from Hawaiian royalty and missionaries.
•The Three Musketeers (Buy at Amazon: DVD or Blu-ray)
The hot-headed young D'Artagnan (Logan Lerman) joins forces with three rogue Musketeers (Matthew MacFadyen, Luke Evans and Ray Stevenson) in this reboot of Alexandre Dumas' story. They must stop the evil Richlieu (Christoph Waltz) and face off with Buckingham (Orlando Bloom) and the treacherous Milady (Milla Jovovich).
•My Week with Marilyn (Buy at Amazon: DVD or Blu-ray/DVD Combo)
In the early summer of 1956, 23 year-old Colin Clark (Eddie Redmayne), just down from Oxford and determined to make his way in the film business, worked as a lowly assistant on the set of 'The Prince and the Showgirl'. The film that famously united Sir Laurence Olivier (Kenneth Branagh) and Marilyn Monroe (Michelle Williams), who was also on honeymoon with her new husband, the playwright Aurthur Miller (Dougray Scott). Nearly 40 years on, his diary account The Prince, the Showgirl and Me was published, but one week was missing and this was published some years later as My Week with Marilyn – this is the story of that week. When Arthur Miller leaves England, the coast is clear for Colin to introduce Marilyn to some of the pleasures of British life; an idyllic week in which he escorted a Monroe desperate to get away from her retinue of Hollywood hangers-on and the pressures of work.
•Young Adult (Buy at Amazon: DVD or Blu-ray)
Charlize Theron plays Mavis Gary, a writer of teen literature who returns to her small hometown to relive her glory days and attempt to reclaim her happily married high school sweetheart (Patrick Wilson). When returning home proves more difficult than she thought, Mavis forms an unusual bond with a former classmate (Patton Oswalt) who hasn't quite gotten over high school, either.
•Happy Feet Two (Buy at Amazon: DVD or  Blu-ray/DVD Combo)
Happy Feet Two returns audiences to the magnificent landscape of Antarctica in superb 3D. Mumble, The Master of Tap, has a problem because his tiny son, Erik, is choreo-phobic. Reluctant to dance, Erik runs away and encounters The Mighty Sven-a penguin who can fly! Mumble has no hope of competing with this charismatic new role model. But things get worse when the world is shaken by powerful forces. Erik learns of his father's "guts and grit" as Mumble brings together the penguin nations and all manner of fabulous creatures-from tiny Krill to giant Elephant Seals-to put things right.
•Neverland (Buy at Amazon: DVD or Blu-ray)
Neverland introduces us to a young lad named Peter and his streetwise gang, who are mysteriously transported from turn-of-the-century London into an enchanting parallel world where time stands still and an adventure awaits like nothing you've ever seen before. In Neverland, no one ever ages and lost souls have been plucked out of time. The lost boys are soon caught in a war with the man who will become Captain Hook and change the fate of this mystical land forever.
•Melancholia (Buy at Amazon: DVD or Blu-ray)
Justine (Kirsten Dunst) and Michael (Alexander Skarsgård) are celebrating their marriage at a sumptuous party in the home of her sister (Charlotte Gainsbourg) and brother-in-law (Kiefer Sutherland). Meanwhile, the planet, Melancholia, is heading towards Earth… Melancholia is a psychological disaster movie from director Lars von Trier.
•Wallace and Gromit: World of Invention (Buy at Amazon: DVD or Blu-ray)
WALLACE & GROMIT'S WORLD OF INVENTION sees world-renowed inventor Wallace and his faithful sidekick (turned camera dog) Gromit turn their hand to presenting for the very first time, hosting a six-part series from the basement of 62 West Wallaby Street. They take an enthusiastic look at some real-life cracking contraptions, from gadgets that help around the home to the mind-boggling world of space travel and much more in between. From their self-built television studio, Wallace introduces films of inventors from around the world, and unveils some of his very own creations.