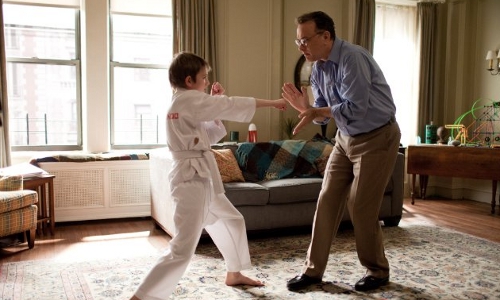 It's a fairly uninspiring week of DVD/Blu-ray releases. The most prominent option is a Best Picture nominee despite getting lackluster reviews and weak audience response.
•Extremely Loud and Incredibly Close (Buy at Amazon: DVD or Blu-ray)
Oskar (Thomas Horn) is convinced that his father (Tom Hanks), who died in the 9/11 attacks on the World Trade Center, has left a final message for him hidden somewhere in the city. Feeling disconnected from his grieving mother (Sandra Bullock) and driven by a relentlessly active mind that refuses to believe in things that can't be observed, Oskar begins searching New York City for the lock that fits a mysterious key he found in his father's closet. His journey through the five boroughs takes him beyond his own loss to a greater understanding of the observable world around him.
•Alvin and the Chipmunks: Chipwrecked (Buy at Amazon: DVD or Blu-ray/DVD Combo)
The vacationing Chipmunks and Chipettes are turning a luxury cruise liner into their personal playground, until they become 'chipwrecked' on a remote island. As the 'Munks and Chipettes try various schemes to find their way home, they accidentally discover their new turf is not as deserted as it seems.
•A Dangerous Method (Buy at Amazon: DVD or Blu-ray)
Seduced by the challenge of an impossible case, the driven Dr. Carl Jung (Michael Fassbender) takes the unbalanced yet beautiful Sabina Spielrein (Keira Knightley) as his patient in A Dangerous Method. Jung's weapon is the method of his master, the renowned Sigmund Freud (Viggo Mortensen). Both men fall under Sabina's spell.
•Confucius (Buy at Amazon: DVD or Blu-ray/DVD Combo)
Screen legend Chow Yun-fat stars as Confucius in the inspiring, action-packed saga of a leader whose wisdom and cunning were more powerful than any sword. In this sweeping battlefield epic, Confucius finds his lands threatened by the fires of war. After leading the nation's most powerful army to victory against hordes of invaders, the new hero finds even greater danger in the jealous eyes of the aristocrats he fought to protect. From the Producer of John Woo's Red Cliff and Jet Li's Warlords, and captured on camera by Oscar-winning Director of Photography Peter Pau (Crouching tiger, Hidden Dragon), Chow Yun-fat delivers the award-nominated performance of a lifetime as a teacher, a military leader, and a legend in Confucius.
•South Park: Season 15 (Buy at Amazon: DVD or Blu-ray)
All fourteen uncensored episodes from South Park's landmark 15th season are loaded into this exclusive three-disc set. Join Kyle, Stan, Kenny and Cartman as they bro down on Broadway, become one with the HumancentiPad, and take on the evil, email-hacking WikiLeaks. Serve that with a side of royal pudding and some never-before-seen deleted scenes, and you've got a collection that will leave your wormhole tingling. AWKWAAARRDD!
•Casablanca: 70th Anniversary Collector's Edition (Buy Blu-ray/DVD Combo at Amazon)
A truly perfect movie, the 1942 Casablanca still wows viewers today, and for good reason. Its unique story of a love triangle set against terribly high stakes in the war against a monster is sophisticated instead of outlandish, intriguing instead of garish. Humphrey Bogart plays the allegedly apolitical club owner in unoccupied French territory that is nevertheless crawling with Nazis; Ingrid Bergman is the lover who mysteriously deserted him in Paris; and Paul Heinreid is her heroic, slightly bewildered husband. Claude Rains, Sydney Greenstreet, Peter Lorre, and Conrad Veidt are among what may be the best supporting cast in the history of Hollywood films. This is certainly among the most spirited and ennobling movies ever made.
•The Bodyguard (Buy Blu-ray at Amazon)
A former Secret Service agent takes on the job of bodyguard to a pop singer, whose lifestyle is most unlike a President's. Starring Kevin Costner and Whitney Houston. (1992)
•UFC: Best of 2011 (Buy at Amazon: DVD or Blu-ray)
When it comes to crowd-pleasing knockouts, slick submissions and jaw-dropping fights, 2011 was one of the most memorable years in UFC history. Junior dos Santos, Frankie Edgar and Anderson Silva delivered highlight-reel-worthy finishes. Tito Ortiz, Wanderlei Silva and Minotauro Nogueira turned back the clock. Jon Jones emerged as a light heavyweight superstar, and Dan Henderson and Shogun Rua engaged in the fight of the decade. All the spectacular moments of last year are here, in one must-have collection.